How to Choose Right Size Needle For Your Sewing Machine
The needle of your sewing machine is the least expensive component yet the most important one. Without the needle, you wouldn't be able to make even a single stitch.
Every sewist must have some knowledge about the sewing machine's needle because the wrong selection of needles can result in problems like uneven stitching, shredded thread, or even can cause permanent damage to your sewing machine.
Don't let this happen to you!
Choose the right needle type/size as you sew different fabrics.
If you are not sure about the sizing and type of sewing machine needles, read this post till the end, I'll educate you with all the necessary information you need to know a needle.
Before we move ahead and see what type of sewing machine needles you need to work on different fabrics, you must understand the anatomy of the needle.
Also see: Best sewing machine for quilting
The below image depicts important parts of a sewing machine on the left and on the right side, you can see the types of needles that you should use when working on a specific fabric.
You required separate types of sewing machine needles if you have to sew Jeans/Denim and leather.
Different Parts of a Needle
There are mainly 8 different parts of a sewing machine needle. Every single needle will have all these parts, so whether you are working on a light fabric like silk or a heavy material like denim, the sewing machine used for both of them has all these 8 important parts.
Let's take a look.
The sewing machine needle has a flat and round side. The flat side is used to tightly attach the sewing machine needle with the needle bar with the help of a screw. The screw is tightened or loosen when we have to attach or remove the needle.
The round side is the opposite side of the needle that helps with holding the needle tight in place with the needle bar.
Shank
The top of the needle till it gets thin, that part of the needle is called Shank. The Shank has two sides that I've explained above, Flat and Round sides. This is the part that we attach with the Needle bar with the help of a screw.
Shaft
In my view, the Shaft is the most important part of a needle because the thickness of the shaft varies with the type of needle.
Also see: Computerized Vs Mechanical Sewing Machine
If you sewing heavy fabric, you will need a thicker needle than you'd need for sewing light fabric. The shaft is the middle part of a needle that inserts in the sewing machine completely
Front Groove
The long front groove is helpful for the smooth supply of the thread at the time of stitching. The long groove is the part of the needle from the shoulder to the eye.
You can feel groove by touching the needle with your nail. The Front Groove helps you thread the needle easily.
Scarf
Scart is yet another important part of the needle. It goes inside the bobbin and allows the bobbin case hook to cross-mix the threads supplied from the top and bobbin and thus stitches are formed.
Eye
The eye of the needle is a small hole that carries the thread and helps with creating a loop of the thread in order to form stitches.
The eye of the needle can be thin or wide based on the type of needle but it is always in line with the Front Groove that makes passing the thread through the eye easy.
Point
"Point" is the sharp (rounded) end of the needle that penetrates through two or more layers of the fabric to pass the thread being supplied from the top and intersect with the one supplied through the bobbin and form stitches.
Then needle "Points" have 3 most common types;
Sharp-
This type of needle has a Sharp point and is mainly used for Woven fabrics.
BallPoint-
That is commonly used for Knit Fabric and doesn't have a sharp point.
Universal-
The Universal type of needles can be used for both Woven or Knit Fabric and have sharp points.
How to Choose Sewing Machine Needle Size
There are different types of fabric and you must test/know which sewing machine needle is the best fit for a particular type of fabric. It would haven't been much confusing if there was only one Needle Sizing system.
There are two needle sizing systems..
However…
The thumb rule says, higher is the number, thicker/heavier is the needle, and vice versa. You will need a thinner sewing machine needle if you are working on light fabric and a thicker one for heavy material such as leather.
European Needle sizing System
According to the European sewing machine needle sizing system, the size of the needle varies between 60 to 120 with 60 being the lightest sewing machine needle and 120 the heaviest. So if you are stitching a light sheer fabric, you'd need needle size 60.
American Needle sizing System
The American sewing machine needle system has altogether different sizes. As per the American system, the needle size varies between 8 to 19 with 8 being the lightest and 19 the heaviest sewing machine needle.
For a sheer fabric, you'd need a number 8 sewing machine and thick fabric as leather, you will be needing a number 19 sewing machine needle.
Which Sewing Machine Needle size System Should I follow?
You can go for any of these as needle sizes because one system has its corresponding size in other systems.
For example, if you have a light fabric as Sheer Fabric used for curtain, you can go for Needle size 8 as per American standard or size 60 as per the European standard. They both are equivalent to each other.
In fact, some of the sewing machine needle makers prints both the sizes on the needle packs so that there is no confusion about the selection of needle.
Below are needle packets from SINGER & Brother Sewing Machine makes. Both of them have mentioned the size as per American as well as European standards.
Ideal Size of the Needle for different fabrics
Below is the ideal size of the needle for different fabrics.
Take a look!
| | |
| --- | --- |
| Fabric Type | Idea Needle Size |
| Lightweight Fabric such as Silk | 8/60 |
| Medium-weight Fabric as Linen, Velvet, etc. | 14/90 |
| Heavy Fabric as Coating | 16/100 |
Conclusion
Which needle size should you choose depends on the fabric. If you are sewing fabric like silk, you can go for needle size 8/60, and for the heavy fabric like Coating, Denim, the ideal needle size is 16/100. However, the best practice to choose which needle size/type is good for a particular fabric is to test different needles.
Sours: https://bestsewingmachineforbeginnerstoday.com/choose-right-size-needle-for-sewing-machine/
The Best Sewing Machine Needles for Reliable Stitches
Sewing machines are wonderful tools for creating fashion, making items for the home such as curtains, mending clothing, and producing fiber art. High-quality sewing machine needles ensure that your machine will work at its best. The right needle works evenly without snagging or creating runs in the fabric, gliding easily and quickly through textile layers for precise, fabulous results. Sewing machine needles come in different thicknesses. Those designated 70/10 are thinnest and best for sewing light fabrics like silk; 80/11 needles work best with medium-weight fabrics like cotton; and 90/14 needles do best with medium to heavy fabrics. Needles marked 100/16 are ideal for heavy fabrics like denim, and those marked 110/18 are very thick and best sew the heaviest fabrics, such as upholstery. Browse our reviews of the best needles to choose the ones that best suit your needs.
1. Euro-Notions Universal Machine Needles
Quilters, fashion designers, and crafters reach for Schmetz sewing machine needles for their general sewing needs. This set contains Schmetz's basic needles: 70/10, 80/11, and 90/14. The tips of the needles are slightly rounded, allowing use on woven fabric and knits. They easily glide through all types of textiles for precise, crisp stitching. They won't bend or break easily: it's not unusual for one to last for years. They are compatible with most sewing machines.
2. Singer Heavy Duty Machine Needles
Singer's heavy-duty needles, size 110/18, are great for sewing heavyweight materials such as denim, drapery, wool, corduroy, canvas, and vinyl. Their tips are super sharp, efficiently punching through thick layers of fabric without jamming, breaking, or bunching. Heavy-duty needles are ideal for sewing thick canvas bags, adding zippers to coats, and sewing tents, but they are not for normal use and may leave holes in thin or medium-weight fabric. These needles are compatible with most sewing machines. The ends of the needles are gray, for easy recognition.
3. Organ Needles
Educators rely on durable, high-performance needles when teaching the basics of machine sewing to beginners. Durable and affordable—especially in this bundle of 10 packs of 10 needles each—Organ needles are ideal for classrooms and art centers on a budget. These 80/12 needles have a slightly rounded point and are perfect for medium-weight fabrics such as cotton and polyester. They also perform well on delicate and thicker fabrics, too: no bunching, no snagging, no skipped stitches. Organ needles are made by Brother and work best with Brother machines, but they work well with most other machines too.
4. Superior Threads Topstitch Needles
If you are a keen sewing machine quilter, Superior Threads' 100/16 needles are for you. They are designed for thick layers of fabric, and the outside of each needle is coated with titanium nitride for frictionless sewing, which makes them last six to eight times longer than normal. The needles have an elongated eye to accommodate heavier threads, such as quilting and upholstery threads, and a sharp point to glide through layers of fabric. These needles are also excellent for embroidery and appliqué and for medium to heavy fabric sewing.
5. Janome Blue Tip Needles
Janome's needles are designed for Janome sewing machines, but they can work with most other brands of machine. These needles are perfect for machine embroidery: they have a slightly larger eye for the thicker thread and their size is 75/11. They are sharp and glide through layers of fabric without skipping stitches, snagging or bunching fabric, or breaking. Janome Blue Tip needles—blue for easy identification—perform well with preprogrammed fancy stitching, and straight stitches are beautiful and crisp.
Sours: https://www.artnews.com/art-news/product-recommendations/best-sewing-machine-needles-1202692612/
What Size Machine Needle?
What size sewing machine needle should I use?
For everyday medium weight projects you will need a Universal Needle in a size 80/12 or 90/14.
(The first number 80, 90 is the metric number, followed by 12, 14 the imperial number. Most needle brands feature both numbers on their packaging.)
80/12 – suitable for medium weight fabrics e.g. cotton, polyester, linen
90/14 – suitable for medium weight fabrics, e.g. slightly heavier weight cotton, polyester, linen, lightweight upholstery fabric.
Light Weight Fabrics
Lighter weight fabrics such as silk (chiffon, organza, crepe-de-chine) will require a smaller sized needle. The lighter the fabric the smaller the needle required. Try a 75/11, 70/10 or 65/9, 60/8.
Do I need a smaller needle?
With practise and experience you will learn to acknowledge the size of needle required for the project. However a tell-tell sign that you are using a needle too large for the fabric is puckering, gathering and snagging of the fabric. The puckering can be around the needle entry point or in an area parallel to the sewing line. Be sure to replace the needle with a smaller sized needle, or if you believe you are working with the correct size, a new needle (as puckering can illustrate a blunt needle).
Heavy Weight Fabrics
For heavy weight fabrics such as denim, canvas and upholstery you will need a larger needle such as a 100/16, 110/18 or 120/20. The heavier the fabric, the larger the needle sized required.
Do I need a larger needle?
A larger needle will be required with thicker, heavier weight fabrics. If you are using a needle that is too small for the job, the needle will break. A simple solution will be to replace the needle with a larger sized needle.
How do you know that you need to change the needle size?
You will have one of two problems. The needle may break; this will point to using a larger sized needle. Alternatively the needle may cause puckering, snagging in the fabric. This will require change to a smaller sized needle (or a fresh needle if the needle is blunt).
Needle Size Guide:
No. 60/8 65/9 – Silks
No. 70/10 75/11 – Lightweight Fabrics
No. 80/12 – Medium Fabrics
No. 90/14 – Medium (slightly heavier) Fabrics
No. 100/16 – Heavyweight Fabrics
No. 110/18 – Upholstery Fabrics
No. 120/20 – Very Heavy Fabrics
Once you are happy with your choice of needle type and size I recommend testing the needle on a sample of fabric to check you are working with the right needle for the job! This also allows you to test the thread and stitch length for your project.
Hopefully you understand the different needle types (What Sewing Machine Needle to Use?) and sizes available and when they are required.
How often should I change my sewing machine needle?
This is one of the MOST popular questions. Needle retailers will normally inform customers that changing of a needle should take place with every new project and/or with every 6-8 hours of sewing. However I personally find it hard to know how much sewing I have completed with the needle, especially as I change between sizes and types.
So… I tend not to work with any particular rule, if I am starting a new very important project I might use a new needle, this is more important when working with lightweight fabrics (to avoid puckering the fabric). Otherwise I tend to test the needle on my fabric and visually inspect how it performs. Take the needle out of the machine and check the tip if you are worried, it can be a good idea to check that the needle isn't bent.
To check this simply lay the needle on a flat surface, it should lay flat!
Sours: https://madetosew.com/what-size-sewing-machine-needle/
How To Change A Needle On A Brother Sewing Machine:
Sewing Machine Needles for Brother
______________________________________________________________________________________________________________________________________
About Clearance Contact Us Links Newsletter Archives Newsletter Signup Privacy Policy SCHMETZ App Shows Store Policy
©2021 SCHMETZneedles.com. All Rights Reserved.

eCommerce Solution : k-eCommerce
Sours: https://schmetzneedles.com/sewing-machine-needles-for-brother
Denim needle brother
How to Choose the Right Sewing Machine Needle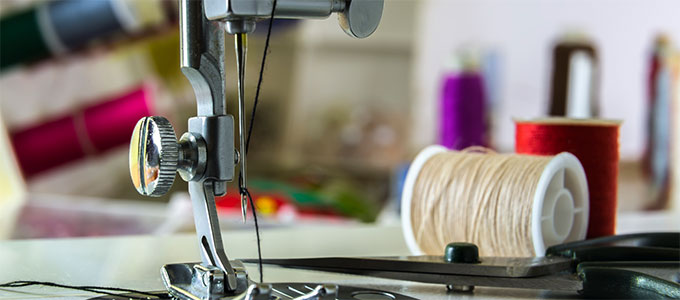 Using the wrong type of sewing machine needle is one of the most common mistakes we come across at Sew Essential. It can lead to needle breakage, difficulty working with the chosen fabric and poor stitch quality. You'll never have to experience these problems with our sewing machine needle guide! We've outlined the different types of needles available and the fabrics and threads they should be used with. Even if you're a confident stitcher and are in the know about needles its worth having a quick read. You might just surprise yourself and discover a life-changing needle you never knew existed!
Sewing Machine Needle Types
The first thing to know is that sewing machines needles are standardised. They are compatible across the range of brands, including Janome, Brother, Husqvarna, Elna, Pfaff etc. You can be safe in the knowledge that any sewing machine needle purchased from us will be compatible with any relatively modern domestic sewing machine.
The number of different types and sizes of machine needle can seem a bit bewildering at first. However, it's not that difficult to get a handle on the different types. We've listed the most popular needles and the techniques and fabrics they're used for.
Universal needles
As the name suggests, universal needles are the most commonly used needle. They can be used with woven fabrics, synthetics and some knit fabrics, although check the other needle types outlined below for specific types of knit fabric. The finer needles are mostly used for lightweight fabrics. Larger sizes are used on medium to heavyweight fabrics. Polyester / cotton or silk threads should be used with a universal needle.
Ball point needles
Ball point needles have a more rounded tip than a universal needle which pushes the fabric fibres apart rather than cutting them. This makes ball point needles ideal for working with rib knits, interlock, cotton knits, fleece, double knit and generally most knit fabrics because it prevents them from running or laddering as a result of stitching. Polyester and polyester / cotton blend threads are best for use with ball point needles and finer threads should be used for finer needles.
Stretch needles
A stretch needle has what is called a 'scarf' which allows extra room for the hook to pass close by and prevents skipped stitches making it ideal for use with fabrics such as Lycra, power net, two way stretch knits, silk jersey, spandex and highly elasticated synthetic fabrics or indeed elastic itself. Polyester or cotton wrapped polyester threads should be used. Stretch fabrics are renowned for being more difficult to work with and choosing the right needle is crucial to achieving a good end result.
Sharps needles
If you're a quilter working with several layers of cotton and wadding or you're working with densely woven fabrics such as silk and micro fibre a sharps needle should be used. These needles are designed to work with several layers of fabric thanks to a stronger shaft which helps to avoid bent or broken needles and a sharp point which enables it to penetrate through the fabric and produce smooth buttonholes. A short round threading eye also gives extra strength during sewing.
Quilting needles
Quilting needles are also designed to be used with several layers of fabric and wadding thanks to a reinforced shaft, however, they are much shorter in length than the sharps needle to allow quilters to achieve quick and even stitching. Beginners will most likely find a smaller needle such as a size 7 or 8 easier to use whilst more experienced quilters often choose a larger option.
Jeans needles
No prizes for guessing which fabric these needles are designed for! Yes, denim is the most obvious choice, but these needles are also best for other densely woven fabrics such as heavy twill, canvas and heavy linens often used for workwear. Whereas stretch and ball point needles are designed not to cut the fabric jeans needles have a very sharp point and a stronger shank to prevent needle bending or breakage and push through the heavy fabric. Threads such as synthetic or blends, 100% polyester, heavier top stitching threads and cotton wrapped polyester should be chosen when working with these needles and fabrics.
Leather needles
Leather needles are often known as chisel point needles thanks to a point that looks and acts like a chisel when in use. Yes, you've guessed it, these needles should be used with genuine leather, suede and difficult to sew projects, but should not be used with PU imitation leather, ultra suede or synthetic suede since the characteristics of these fabrics are quite different to their real counterparts.
Metafil needles
If you're a bit of a magpie when it comes to thread and love a pretty metallic or rayon, a metafil needle is ideal when sewing or embroidering on woven or knitted fabrics. Metallic needles have an extra large eye meaning these fancy threads feed through more freely and won't shred or split as a result of the sewing motion. If you ever struggle to thread your needle a metallic needle would be a good buy because it is also appropriate for general sewing and is much easier to thread due to the larger eye.
Embroidery needles
Embroidery needles are designed with a wider eye to allow threads such as rayon, polyester or cotton machine embroidery threads to pass freely and easily when embroidering. Missed stitches can often occur when machine embroidering thanks to the fabric flexing up and down rapidly as a result of the fast moving embroidery stitch. Embroidery needles have a pontoon scarf with an oversize bump which reduces the chance of this happening by reducing the amount of movement in the fabric.
Top stitch needles
Top stitch needles have an extra sharp point which will pierce all types of fabric easily and the large eye allows thick top stitching thread to be used.
Twin needlesand triple needles
These needles are used for pin tucking and decorative stitches and need to be used at a reduced speed. They are not compatible with all machines so always check your manual before using.
Wing needles
Used in conjunction with the special stitch options on your machine, wing needles will produce holes in the fabric to replicate drawn thread work. Fabrics made from natural fibres such as cotton should be used with these needles.

Quick Reference Chart
Sewing Machine Needle Type
Needle Size
Fabric Type
Thread Type
Universal needles
70 (10)
Voile, sheers, delicate silk
Gutermann Sew-All
80 (12)
Shirtings, poplin, rayon, light wool
Gutermann Sew-All
90 (14)
Medium - heavy, calico, linen
Gutermann Sew-All
100 (16)
Heavy fabric, upholstery, bag making
Gutermann Sew-All, Gutermann Extra Upholstery
110 (18)
Extra heavy fabric, upholstery
Gutermann Extra Upholstery thread
Sharps needles
70 (10)
Voile, microfibre
Gutermann Sew-All
80 (12)
Shirtings, microfibre, patchwork
Gutermann Sew-All
90 (14)
All Sharps produced perfect top stitching
Gutermann Sew-All
Ball point needles
70 (10)
Light knits, tricot
Gutermann Sew-All
80 (12)
Interlock, Lacoste
Gutermann Sew-All
90 (14)
Medium heavy knits, double knit
Gutermann Sew-All
Stretch needles
75 (11)
Light lycra, elasticised fabrics
Gutermann Sew-All
90 (14)
Elastic, heavier lycra, elasticised fabrics
Gutermann Sew-All
Jeans needles
90 (14)
Denim, tightly woven fabrics
Gutermann Extra Upholstery
100 (16)
Heavy denim, vinyl, furnishings
Gutermann Extra Upholstery
Leather needles
90 (14)
For all leather and suede
Gutermann Sew-All, Gutermann Extra Upholstery
100 (16)
Do not use on synthetic leather
Gutermann Sew-All, Gutermann Extra Upholstery
Metafil needles
80 (12)
Decorative sewing on various fabrics
Quilting needles
80 (12)
Quilts made from cotton, wool or
polyester with wadding centre
Gutermann Natural Cotton
Embroidery needles
75 (11)
Decorative sewing on lightweight fabrics
90 (14)
Decorative sewing on heavier fabrics
Twin needles
Various
Decorative sewing on most fabrics
What Do the Size Numbers Mean on Sewing Machine Needles?
You may be wondering what the size number such as 80/12 or 110/18 on sewing machine needles mean. Well, wonder no more! Of the two numbers, one is the European size and one is the American size. From thinnest to thickest, the European sizes range from 60 to 110, whereas the American sizes range from 8 to 18. Pretty simple, eh?
Generally, a 80/12 needle is used for dressmaking (and will probably be the size of needle you received with your sewing machine) but please refer to the quick reference table above for information on which needle sizes to use with particular threads, fabric types and fabric weights.
How Often Should I Change My Needle?
We generally recommend changing your needle after every project. Needle are pretty cheap, so it's not going to break the bank and you have the assurance that your needle will always perform as expected.
We also recommend giving the needle a good visual inspection if you machine has jammed. Jamming can result in the needle bending, which can lead to unexpected results such as poor stitch quality. If your machine is making an unusual thumping sound as the needle penetrates the fabric, then you definitely need to change the needle.
Fitting a New Needle
To fit a new needle the first thing we recommend is to pop a piece of paper under the foot. Then, when loosening the needle screw, there is no danger of the old needle dropping inside the machine. We don't want any expensive repair bills! Once the old needle is out, the new needle will only fit in the correct orientation due to the shank design. The flat side of the shank should face towards the rear of the sewing machine.
Make sure you push the new needle up as far as it will go before tightening the needle screw. If you don't you may get poor stitch quality, the needle could strike the bobbin case or your needle threader could be damaged (if your machine has one).
Anatomy of a Sewing Machine Needle
To finish off this article, lets get geeky and look at the various parts of the sewing machine needle.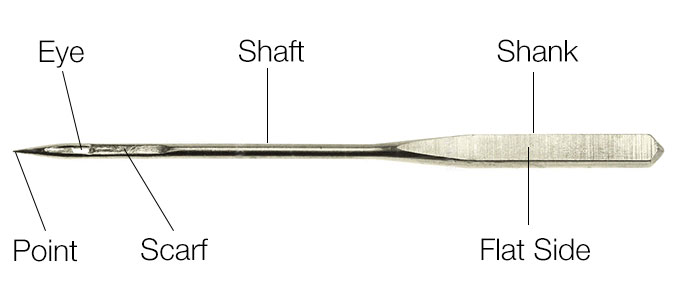 Eye - The hole in which the thread slides through. Good quality needles have a smoothly machined eye to minimise thread shredding. The eye size varies according to the intended thread type.
Shaft - The shaft varies in thickness according to the intended fabric - thicker materials require a stiffer shaft.
Shank - The part goes into the machine. Has a flat side to prevent incorrect insertion.
Point - The point shape varies widely between different needle types, from ball point for knit fabrics to chisel shaped for leather.
Scarf - Enables the hook to get close to the eye of the needle to avoid skipped stitches.
So there you have it, a run down of the movers and shakers of the needle world, their uses, recommended sizes, fabrics and threads. If you have any requests for a particular sewing guide or tutorial please don't hesitate to get in touch. Watch this space for more in-depth articles from Sew Essential.
Sours: https://www.sewessential.co.uk/blog/how-to-choose-the-right-sewing-machine-needle/
How to Sew Through Thick Seams (Hem Jeans)
There are singer universal regular point needles which are specially made to help sewers get needlework done quickly and efficiently. Singer needles come in different sizes; thus they are suitable for a wide selection of fabrics. Size 16/100 is used on heavy fabrics, 90/14 for medium weight fabrics, and 80/11 for lightweight fabrics.
Can you use Singer needles on a Brother machine? It can be quite disconcerting to realize that you bought Singer needles while you have a Brother machine. This article answers this question and other vital questions that you might have about your Brother machine.
Can I Use A Singer Needle In A Brother Machine
The good news is, you don't need to own a singer sewing machine for you to use singer needles. They can be used with different brands including Brother.
One of the primary reasons why you need to use singer needles for your Brother machine is that they are incredibly sturdy and long-lasting. Whether you need to sew pillowcases, grocery bags, blankets, slacks, carpets, or anything else for home or commercial use, singer needles can doubtlessly come in handy.
Why Should I Use Singer Needles For My Brother Machine
Singer needles are ideal for your Brother machine for a number of reasons including:
They come in a wide range of sizes (60/8, 70/10, 80/11, 90/14), allowing you to switch if need be. These needles also feature a 9/70 size for very lightweight fabric such as chiffon and lace.
They feature thin, sharp points, which enable precision when you need to make perfectly straight stiches.
They are compatible with a number of quality machines including Brother and Kenmore. This makes them all the more desirable if you have different sewing machine brands.
They make general sewing easier with Singer Styles 2020, and 2045 that are commonly used for general sewing.
When sewing, you might need to change your needles severally, depending on the fabric. The next topics answer your questions about sewing machine needles: types; suitable sizes for your Brother machine; how to put a needle in your machine; as well as how often you ought to change your needles.
Do All Sewing Machines Take The Same Needles
For the most part, all sewing machines take the same needles. Nonetheless, embroidery, overlock, and other specialty machines might need specific needles. Also, there are some machine brands that demand the use of special needles. Therefore, make sure you read the manual before mounting a needle.
What Are The Basic Types Of Sewing Machine Needles
There are three major type of sewing machine needles.
Universal Point Needles
Universal point needles are basically all-purpose needles which are used for sewing knits and woven. These needles have slightly rounded points. They are also tapered so that they can slip easily through weaves of knit without compromising their sharpness.
These needles come in an array of sizes, but the most popular ones are the 11/75 and 14/90.
Sharp/Microtex needles
In case your work mostly involve sewing tightly woven fabrics, then sharp/Microtex needles will doubtlessly come in handy.
These needles come with thin acute points which create amazingly straight stitches and results in gorgeous top-stitching.
Just like other needles, they come in different sizes to suite different needs. Whether you need a heavy size of 18 or a fine size of 9, you will certainly find it in the market.
Ball Point Needles
Sewing on knits is one of the major activities that tailors and sewing enthusiasts are normally involved in. ball point needles are specifically made for this task. Thanks to their rounded points, these needles will not snag when running through yarns of knit fabric.
When choosing these needles, you need to consider the thread you will use when sewing your knits. Luckily, you will find whatever you are looking for since they come in different sizes, ranging from 10/70 to 16/100.
There are a few other needles which are made for special purposes.
Leather needles: Leather needles are wedge-shaped and have slightly sharp cutting points. They are used for cutting through leather, suedes, and a host of non-woven leather imitations without creating huge holes.
Quilting needles: Quilting needles are specially made for machine quilting and piercing. They have a tapered design which does not only eliminate skipped stitches but also enhances a stress-free fabric penetration.
Topstitch Needles: Are you a sewer who is often forced to work with poor quality, heavy, or multiple threads? Well, if you are, you need a topstitch needle to make your work easier.
Topstitch needles help in creating perfectly straight stitches and stitch lines as long as a straight stitch plate is used.
Metallic Needles: Metallic needles are a must-have for those who work with metallic threads. They feature elongated eyes which thwart breaking and shredding of metallic threads.
Embroidery Needles: Decorative stitching and embroidery cannot be possible without the use of embroidery needles. These vital elements are designed for use with polyester, rayon, and a myriad of other threads used for embroidery.
The needles have elongated eyes, widened grooves, and special carfs which shield fragile threads and safeguard against excess friction; hence making embroidery and decorative stitching a hassle-free affair.
Twin Needles: As the name suggests, twin needles are two needles that are mounted on one shaft, and they are often used to create two rows of stiches at the same time.
What Size Needle Does A Brother Machine Use
A Brother machine is compatible with different needle sizes based on what you intend to sew.
Needle sizes used in Brother sewing machines are provided in the American sizing system and the European metric sizing as follows;
8/60, 9/65, and 10/70: these needle sizes are suitable for light fabrics which include taffeta, silk, organza, lace, and voile.
11/80: the needle size is suitable for linen, satin, cotton, and other medium fabrics
11/75 and 12/80- these needle sizes are used for sewing lightweight fabrics such as Lycra, spandex, cotton, synthetics, and heavier silks.
14/90: this is the ideal in-between needle to use if you normally have to juggle between medium and heavy fabrics when undertaking your daily chores.
16/100: this is the needle size which is suitable for heavy fabrics such as curtains, denim, upholstery fabrics, and tweeds.
How Do You Put A Needle In A Brother Machine
To change or replace the needle in a Brother machine, follow these simple steps;
Turn off the machine
Turn the hand-wheel counterclockwise to raise the needle to its highest position. Ensure that the mark on the wheel points up
Tip: before you replace the needle on your Brother machine, place a paper or fabric below the pressor foot so that you can prevent the worn out needle from falling into the needle plate.
Hold the needle using your left hand, and use a screwdriver to rotate the needle clamp screw counterclockwise and remove it.
Insert the new needle with its flat side towards the back of the machine. When doing this, make sure the needle touches the needle stopper.
Using an oval screwdriver, tighten and secure the needle clamp
You can use these steps to change and replace all types of needles including twin and triple needles.
How Often Should I Change The Needle For My Brother Machine
For a fact, a needles are pretty inexpensive, and they will not break your bank or milk your pockets dry when you decide to change them. Therefore, it is highly recommended that you change the needle for your Brother sewing machine after every project.
Also, make sure you give your needle a thorough visual inspection whenever your sewing machine jams. Keep in mind that jamming can cause the needle to bend; therefore leading to poor stitch quality and other unexpected results.
There is a wide range of signs that tell you it's time to change the needle for your Brother machine, but one of the most popular that you need to look out for is an unusual thumping sound which you hear every time the needle penetrates the fabric.
Related Questions
What size needle do you use for machine quilting?
Quilting needles are used for machine quilting because they have considerably rounded points. When shopping for quilting needles, you need to know that not all sizes will bring out the preferred outcome. It is recommended that you opt for size 14/90.
Can I use SCHMETZ needles with Brother Machine?
Yes. SCHMETZ needles are made to work on major sewing machine brands, and Brother is not an exception. The needle system that you will use quite often for your Brother machine is 130/795.
What makes SCHMETZ needles stand out is that they are highly versatile. They function well on knit fabrics and woven. This simply means that when you arm your Brother machine with a SCHMETZ needle, you can accomplish several tasks and achieve the best results.
A quilting needle of this size has a wide eye which can comfortably accommodate threads of different sizes. Additionally, it has a strong shaft which cannot be compromised by the rigidity of a quilt sandwich.
Sours: https://sewingmachinebuffs.com/can-i-use-a-singer-needle-in-a-brother-machine/
Similar news:
.
1004
1005
1006
1007
1008