Quilling Paper Cactus
My husband, Mr. Craftery, has been working hard the last couple of weekends getting the gardens in our yard full of flowers for the spring and summer.
He's been doing such an amazing job! Our yard has never looked better!
Thank goodness for him, because I have absolutely no green thumb. A nice, sturdy cactus more my speed.
Even better than that, is a paper version!
So I was inspired to whip up a quilling paper cactus and share it with my fellow crafters!
This post contains affiliate links. If you click on the links below and make a purchase, I may receive a small compensation to help me finance this site and keep coming up with awesome tutorials and tips! There's no cost to you and I only ever include links to companies and products that I trust and work with on a regular basis. 
First, find green strips the shade of your choice. Cacti do grow in a few different shades.
Grab some brown and white strips, glue, and a quilling tool, too.
My cacti are all pretty small, about 1 1/2″ tall. You can absolutely make these as large as you like by adding more paper strips to each roll.
But you know I love my minis! I think it's partially because I have so many ideas but so little time. If I work on a small scale, I can finish more projects!
I started with the main body of each cactus.
Roll a tight coil from 3 connected strips, each 22″ long. Repeat to make a second coil.
Mold by pushing the center of each coil until a dome is formed.
Your fingertips or the rounded end of your quilling tool work just fine for this. But,  I've recently gotten a quilling mold and I'm really loving it for my 3-d projects. The domes are a lot more even.
I did find that the cacti looked a bit more natural if one of the domes was pushed a little further than the other.
To set your dome, apply a small amount of glue to the underside, and brush so the entire surface is covered.
Glue the two halves together.
I also like to add a short strip of green right to the center of the dome to cover the seam where the two halves meet.
Of course, your quilling paper cactus needs a pot to grow in!
Start with a tight coil of 3 22″ brown paper strips, made the same way as the green.
This time instead of molding a full dome shape, gently push only the center of the coil. The very outer edge should stay together, so it looks like the lip of a terracotta flower pot.
Lightly press the bottom of your pot against a level surface to allow your pot to sit flat.
I wanted my cactus to sit up a bit in the pot, as if it was really planted. A balled-up bit of brown Kraft paper did the trick. 


The Kraft paper sort of gives the illusion of soil in the pot, too!
Add some glue to secure the cactus in the pot.
Let's make this quilling paper cactus spiky!
Now, because my cacti are teeny, these spikes are super-teeny!
Cut 1″ strips of white quilling paper in half (watch those fingers!) and roll into a tight coil.
Once they're rolled, press firmly to flatten.
Add your spikes to your cactus!
I highly recommend getting some Tacky Glue for projects like this. Tacky Glue sticks paper together almost instantly, but still moves a bit. Trust me, you don't want to have to wait 10 minutes holding each spike as it dries.
I had so much fun figuring out different ways to make cacti!
Some have random spikes; others have spikes in rows.
I made a few with simple flowers on top, too!
I did make one with arms on the sides that I made from long, bent 3D coils.
I only recommend this to those quillers with lots of supplies and patience! It's a little tricky to get the tubes to bend without completely unraveling.
My favorite cactus is one with lots of little buds growing from the top.
I made them exactly the same way I made the first part of the cactus, but just with shorter strips.
Have fun making your quilling paper cactus!
Experiment! Make an entire desert!
And while you're quilling mini's check out my tutorials on mini mushrooms and citrus slices!
in Quilling, Tutorials# 3D Quilling, Quilling Paper Cactus, Quilling Paper Plants
Sours: https://www.thepaperycraftery.com/quilling/quilling-paper-cactus/
You must be logged in to add a private note. Login | Register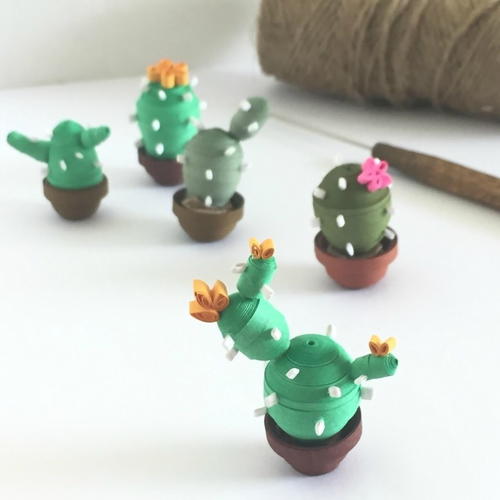 Quilling Art Paper Cactus Plants
This image courtesy of thepaperycraftery.com
Turn any room into a desertscape by creating these Quilling Art Paper Cactus Plants. With several different paper cactus designs to choose from and the ability to create your own favorite cactus type, this paper quilling idea is far too fun to pass up.

Use these for some miniature cactus decor in your home, for southwestern-themed parties, or even for gift toppers on boxes. These little quilled designs are also easier than they look and this step-by-step tutorial will walk you through the process as you go.
Click here for the free paper project
Time to CompleteIn an evening
Primary TechniqueQuilling
Type of Paper UsedQuilling Paper

If you like this quilling craft, then you are going to love the ideas found in How to Quill Paper: 40+ Free Paper Quilling Patterns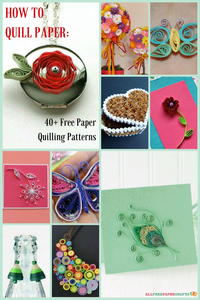 Free projects, giveaways, exclusive partner offers, and more straight to your inbox!
Thank you for signing up!
We were unable to sign you up - please try again.
Sours: https://www.allfreepapercrafts.com/Paper-Quilling/Quilling-Art-Paper-Cactus-Plants
This quilling project is inspired by the stuffed cactus I made last year. This post contains affiliate links.
---------
Quilled Cactus
Materials:
Steps:
Cut the white cardstock to the desired size for the background (mine is 4.25" x 5.5"). Cut a trapezoid from the yellow copy paper to make the front of the pot. Cut a curved arc the same width as the top of the trapezoid to make the back of the pot. Use the green copy paper to cut out the cactus. I did one large oval and two smaller ovals. Glue these to the cardstock background.
Punch a heart from pink copy paper and glue it to the pot. Now it's time to start quilling. Begin by outlining the main part of the cactus in green, then outline the arms. Add two vertical ribs. Outline the pot with yellow.
Now fill in the cactus with a combination of loose circles and other shapes. If you look closely, you'll see I used some teardrops and a marquise. There's no right or wrong. I didn't glue anything in until I'd completely filled the area. Once I liked how it looked, I used reverse tweezers to remove one circle at a time so I could add glue and return it to the correct spot.
Finally, use pink quilling paper to make 6 tight circles and a heart. Glue the circles next to the arms and the heart directly over the punched heart shape.
Display your design on an easel.
Once you know the basics of quilling, you can apply them to literally any design you'd like to make.
Sours: https://www.cindyderosier.com/2019/04/quilled-cactus.html
Quilling Cactus 🌵 - DIY Cactus Quilling - Quilling Art
Jump to How-To
I love that the cactus trend is still on the rise! I see cute cactus prints on pillows, backpacks, shirts, coffee mugs, and they are all so beautiful! Cacti come in many different sizes, shapes, colors even, and I am tempted each and every time I see a baby cactus at Lowe's to pick it up and take it home with me! Simply put, cacti rock, but sometimes it's easier to care for a cute cactus craft rather than a real cactus. Take a look at this fun quilled cactus craft that you can make. It is also a great craft for older elementary kids or preteens.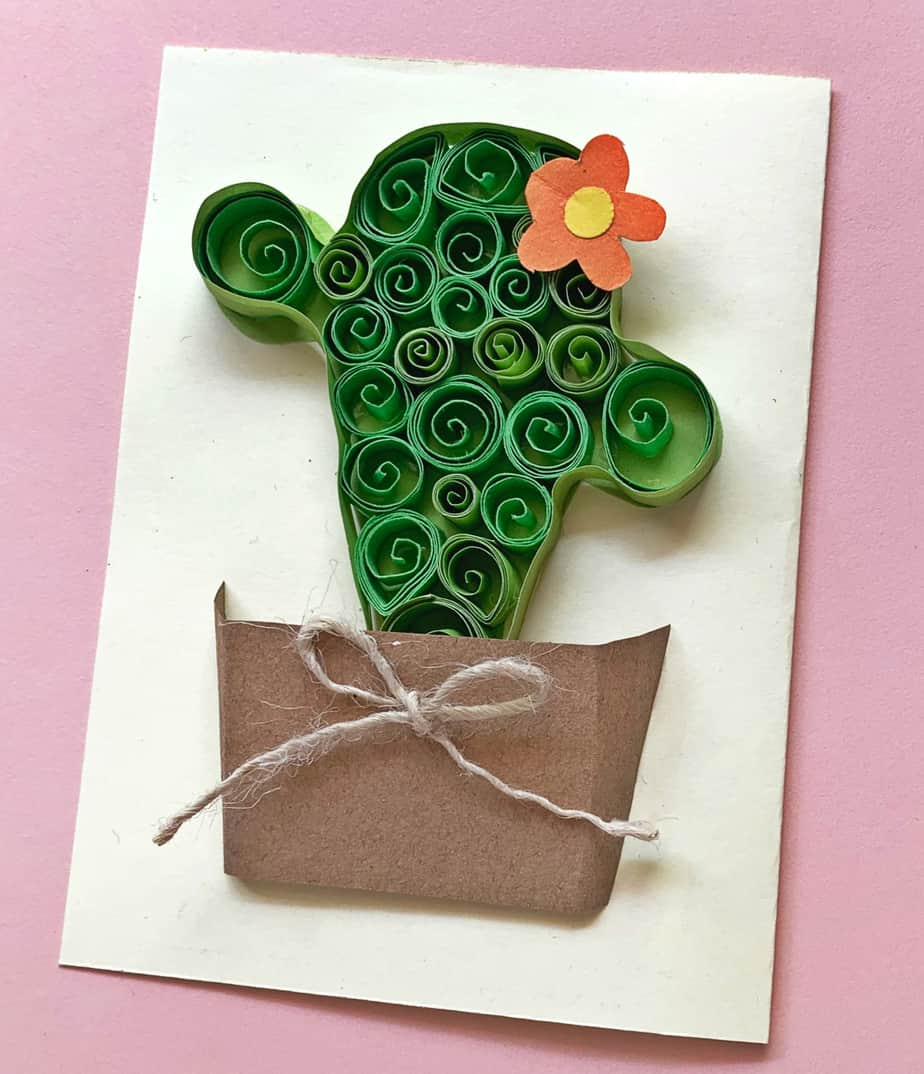 I love the look and simplicity of quilled paper crafts, like this quilled tree craft. The quilling process is made easier with quilling tools, but you could use a set of needle nose pliers and get the same or similar results, I would think! If you think you will like quilling, I would suggest getting the set because it makes is more fun and easy to manage!
I love this craft because you can just add the quilled paper to a template, change up the colors, use different textures of paper, and every cactus looks unique!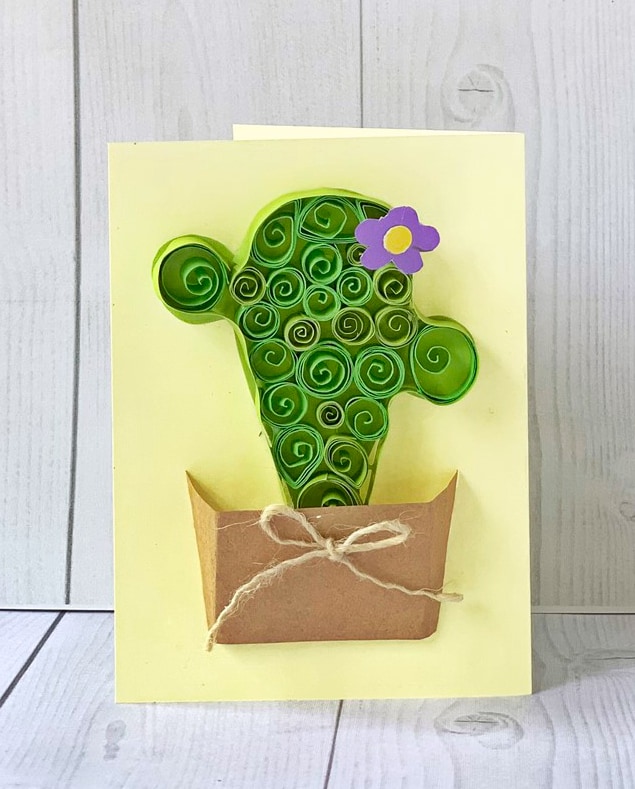 After you have mastered the 2D quilled cactus, try moving on to these amazing 3D cacti!!
>>Download the cactus template<<
How do I make a quilled cactus craft?
Here are the instructions, materials you will need, and tips for making your own quilled cactus craft! Let me know if you have questions!
Sours: https://gingercasa.com/quilled-cactus-craft/
Cactus quilled
.
Quilling Cactus 🌵 - DIY Cactus Quilling - Quilling Art
.
You will also be interested:
.
1
2
3
4