Welcome to our gallery of wall niche ideas including living room, bedroom, kitchen and bathroom designs.
Wall niches work as a built-in shelf in your home. They can be installed pretty much anywhere and can especially useful in homes that don't have a lot of floor space to add shelves or cabinets.
Aside from storage, they can also help to reduce clutter or work as a way to display possessions you want to use as a focal point in your home. There are plenty of different ways to use wall niches and today we're going to take a look at how you can get the most out of wall niches in your own home.
Wall niches come in a variety of different sizes, styles, and designs. So, there's an option for any environment that you want to use them in and the purpose that will serve. The most obvious idea is a functional wall niche. These niches can be used to store items like books or decor items. We'll get into recessed wall niches in a minute but, for now, let's focus on wall niches that aren't recessed.
There are a few ways that wall niches can be used when recessing isn't an option. Simple options can include small shelves in the corner of a room. More ornate options can include molding on a wall that extends slightly out from the wall to create a shelf. You can purchase wall niches for as little as under $100.
Recessed Wall Niche Decorating Ideas
Recessed wall niches come in a few different styles. For a straightforward storage option, you can simply install inset shelves. These are great for storing items like books and towels.
For a more elegant look, you can install more shallow recesses with a light positioned above the alcove. This is a great way to display art.
These can be installed as a DIY project if you're looking to save money. You can purchase the alcove insert itself for about the same price as an external wall niche.
Your favorite decor items are a good candidate for displaying in your living room wall niches. This design features both glass and wood shelving along with recessed lighting to add visual drama to the space.
A hallway entryway with recessed wall niches can be an impressive design element. These recessed rectangles have a small stacked stone accent wall with back lighting to create an inviting ambiance.
This kitchen with recessed wall niche is used to display some of the homeowners favorite cooking and decor items. Things like fruit bowls, mortar and pestle, serving bowls and cookbooks all make good items to display prominently in this space.
This framed recessed wall niche is being used exactly how it was originally intended with an antique rotary dial phone.
Wall niches with shelving can be a great place to show off your favorite decor and bring your unique style to the room design. This can also be an excellent way to incorporate matching color decor to tie in different design elements for a cohesive look.
A fireplace mantle can create an interesting wall nook where one can store a wide variety of things. Above books, baskets, plants and even firewood utilize the functional space.
This dining room with recessed wall niche makes an ideal place to display crystal glassware and decor pieces. Lighting above helps create a focal point to further add attention to the accent wall.
What better way to display your collection of guitars than in an illuminated wall niche with recessed lighting?
This living room's support wall has an interesting wall niche design feature that is used to highlight a colorful glass vase.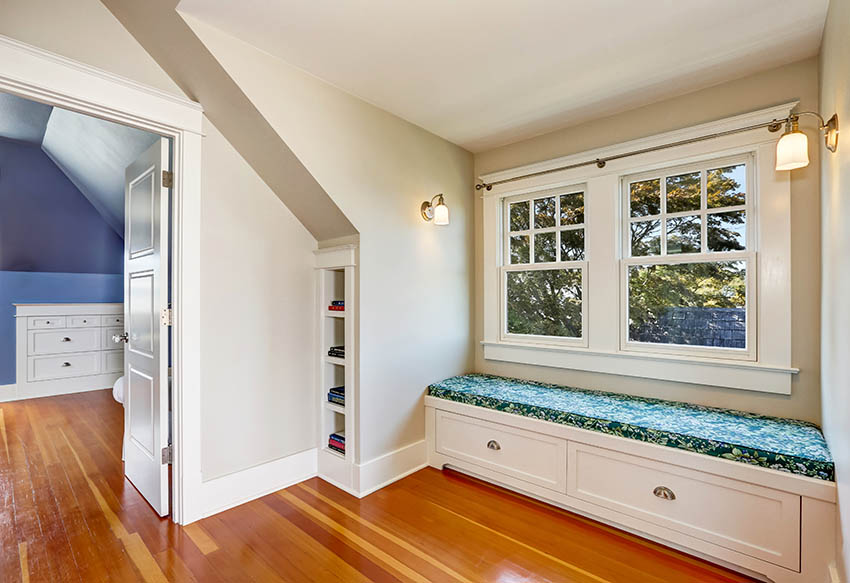 A girls bedroom with multiple wall niches makes the perfect place for a chest of drawers and book shelf. The window seat with storage underneath is another design feature that gives this room plenty of personality.
This inviting living room design features a built-in shelving wall niche that provides the ability to show a variety of decorative items and art collectibles.
A wall niche situated next to the living room fireplace is an ideal location for storing wood and brings a natural element to the space.
A recessed niche accent wall constructed from shiplap planks creates a warm backdrop that can accommodate art or decorative furniture pieces you wish to showcase.
This mid century modern style living room has a painted wall niche to better highlight the all white pottery and decor.
An attic bedroom is a great place to build wall niches for a variety of storage needs. This bedroom design utilizes its niches as bookcases and multi-use pull out bin storage.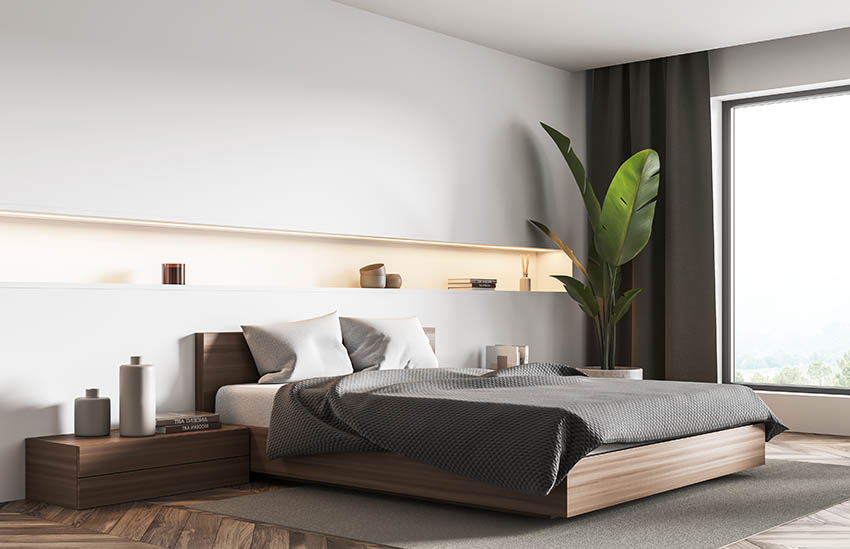 This modern bedroom features a long horizontal wall niche with lighting creating an alluring ambiance for its design.
An under the stairs wall niche creates an interesting place to show off decor items such as vases.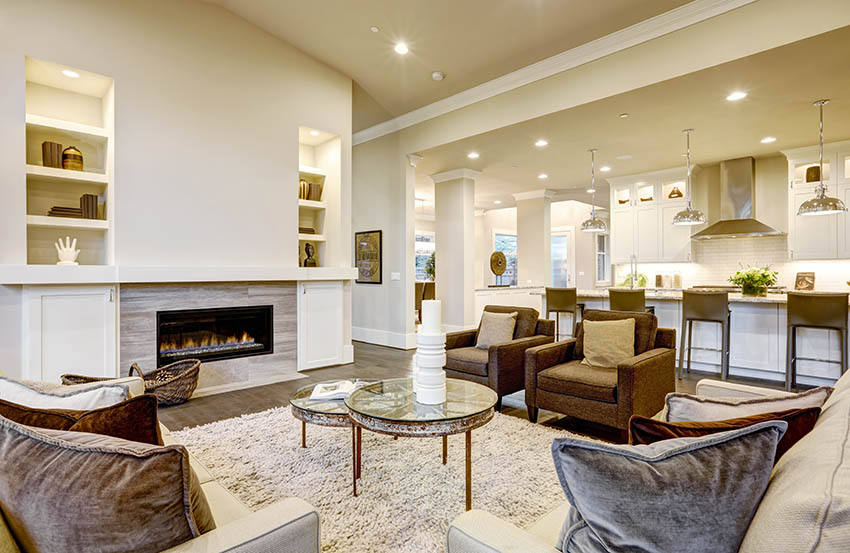 Adding lighting to wall niches creates a focal point in the room to better showcase items and create ambiance in the space.
Living Room Wall Niche
The living room is one of the places that people primarily display their possessions, including items like art and photos. A wall niche in the living room is an excellent way to display these possessions without having to worry that a guest or pet may accidentally knock over a shelf. It also helps to avoid a cluttered appearance.
Living room wall niches work well both in large or small rooms, as long as the lighting helps accent the recessed part of the wall.
This formal living room design has two large rectangular wall niches with painted dark yellow backdrops and down-lighting to promote the large decorative vases. In addition there is a recessed center wall with built-in shelf that contains large animal statues.
This contemporary living room with stacked stone accent wall with fireplace and wall niches adds visual interest with its ability to show off a variety of art decor.
This Mediterranean style living room features an arches recessed wall niche with wood shelving for showing off small statuettes and decor.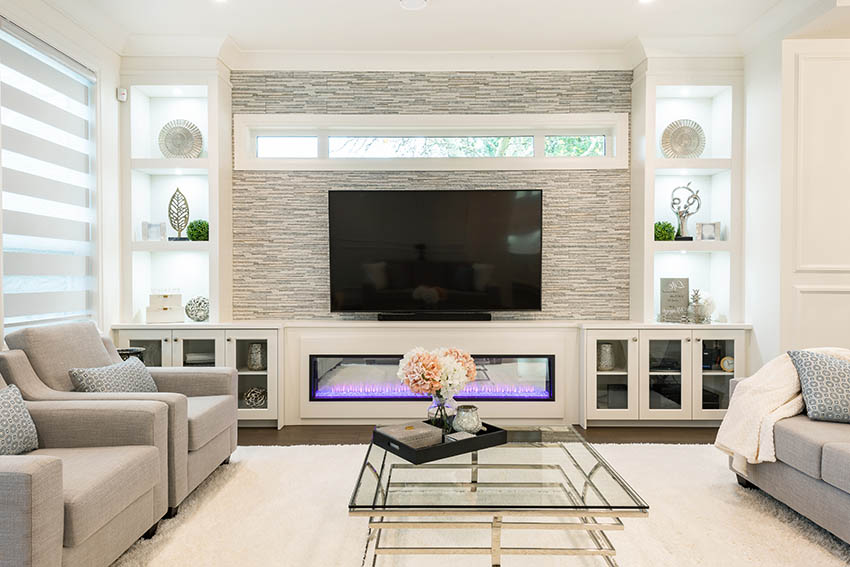 This gorgeous living room sitting area has two recessed wall niches on either side of the large stacked stone fireplace. The niches themselves features a bright background wall with dramatic back-lighting and silver decor.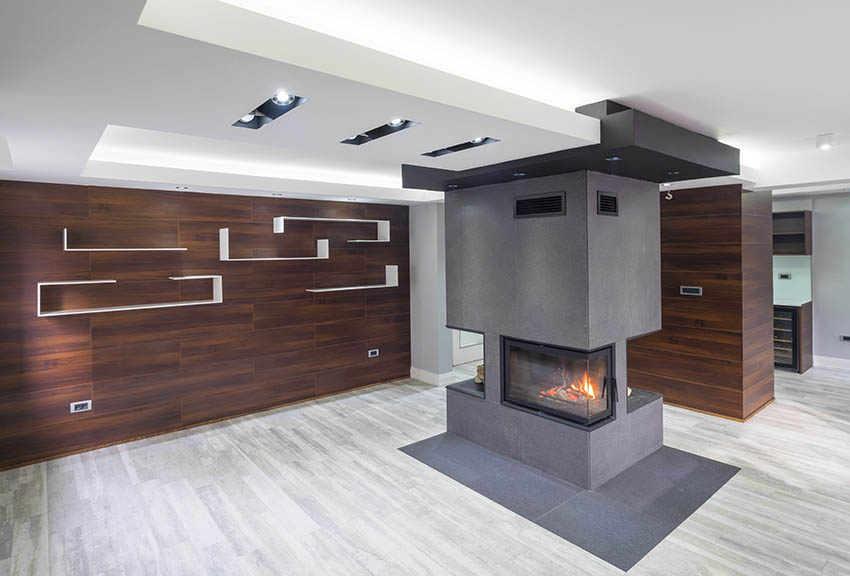 This modern fireplace's central location makes it a great spot for displaying unique items in its wood paneled recessed wall niche.
This long rectangular recessed wall niche is being used to display greeting cards and small family pictures.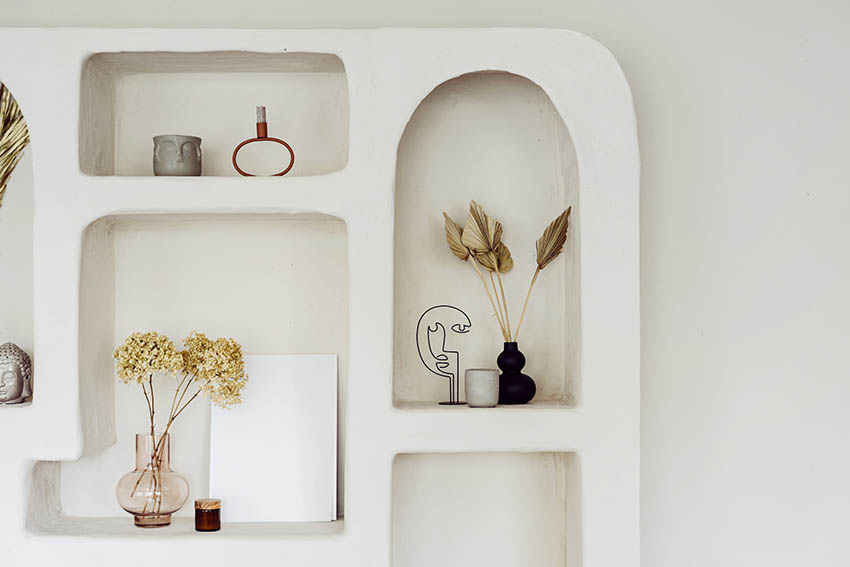 Many older homes have interesting wall niches that add a lot of character to the space. These Spanish style plaster wall niches feature a variety of decor items.
Many older homes have interesting wall niches with shelving that offer the ability to get creative with what you wish to showcase. This room shows off a variety of colorful pieces.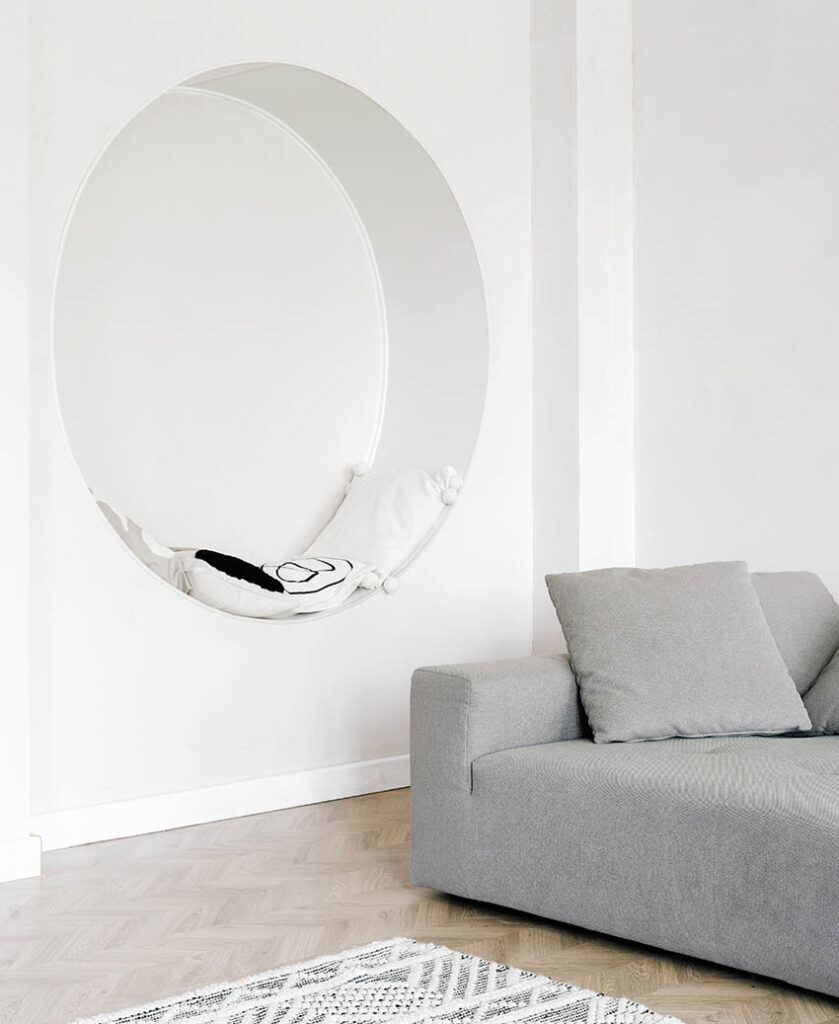 This living room offers a custom circular wall niche with comfy cushions to create a unique sitting area.
Prefab Wall Niche
Construction of a wall niche can be completed in two basic ways. One way involves knocking out the drywall in an area, then creating a recessed box with wood.
Once created, this box can be covered with drywall and paint, or any other material appropriate for the design. The other method of completing a wall niche is by utilizing a prefabricated niche.
A prefabricated niche is an insert that is installed after the drywall is removed from the desired area. The prefab wall niche is designed to fit snugly into the hole in the drywall, such that the niche can be finished easily after the prefab is inserted. Prefab niches, as discussed before, can be found for under $100.
Wall candle niches can provide an inviting ambience for those who like to luxuriate in the tub.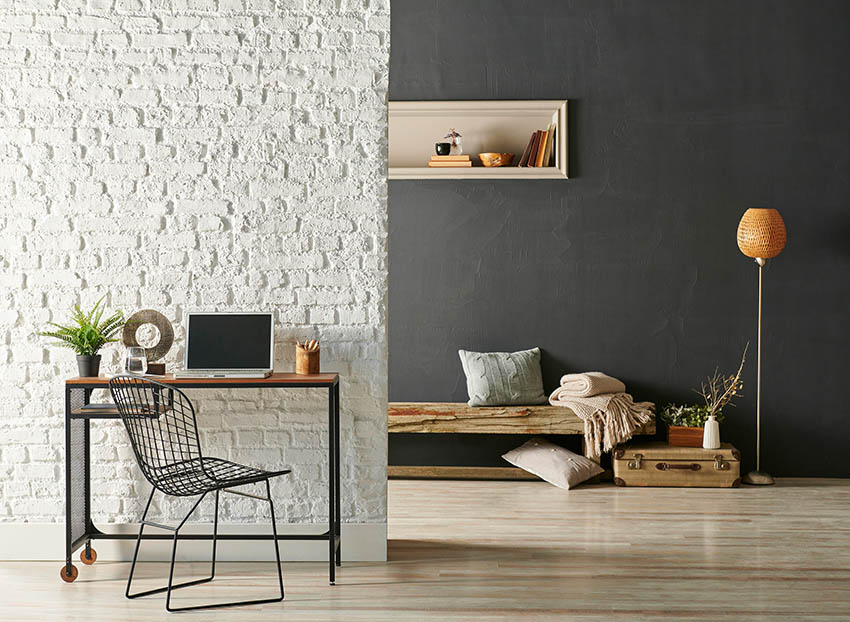 Another easy DIY wall niche alternative to get a similar look is to hang external containers for your decor. These have the advantage of not requiring any large holes in your walls and can be easily positioned within your home.
Shower Wall Niche
Unlike wall niche in other rooms, wall niche in a shower does not function primarily as a design element. Shower wall niche typically serves a more functional role, allowing for the storage of hygiene items with the use of external shelving. You usually see these as a space to store shower items such as soap, combs, or even larger ones can hold shampoo and conditioner bottle.
A shower niche does add a cost compared to a standard shower installation. When you're installing your shower, it can add a cost between $75 and $300. This large range is controlled by the amount of space you want the shower wall niche to have.
If you're looking for a small space to store your soap, you're likely to stay at the lower end while a niche closer to a full shelf will cost you more. It's important to note that this cost is added to the installation cost of your shower which normally ranges between $1,200 and $6,000.
Another factor in the cost of your shower wall niche will be who you work with to install it. Different contracting companies usually have varying prices. Remember to look at each contractor carefully – just because one offers the best price doesn't necessarily mean that they'll be the right option.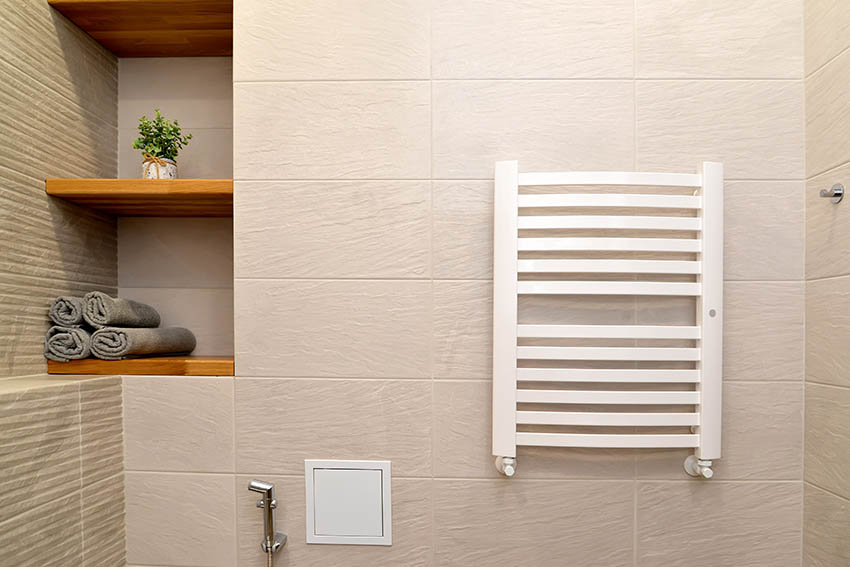 Shower Wall Niche Inserts
While a shower wall niche can be a helpful way to maximize space in a shower, it can be troublesome to install correctly.
If the niche is not completely water-tight, moisture will leak through the cracks, creating serious problems within the wall. This is why many shower niches are installed when the entire shower is installed. If everything is one large piece, there's less likely to be a problem with leakage or loose seals.
However, that doesn't mean that all shower niches are installed with the shower itself. You also have the option of purchasing shower wall niche inserts. Just because these aren't installed initially, though, doesn't mean that they aren't high quality.
Cost of Shower Wall Niches
The cost of these niches can vary greatly because there are a number of manufacturers, styles, and sizes available. For wall niches themselves, you can find the inserts online for as low as under $100. If those niches are recessed into the wall of your shower, there may be an extra installation cost that is, once again, dependent on the style, size, and contractor you work with if you chose this method over a DIY.
A wide variety of independent inserts for shower wall niches can be purchased and installed. The idea behind these inserts have the same idea behind them as prefabricated wall niches. These inserts help to create a watertight seal, preventing moisture from accumulating in the wall.
Shower wall niche inserts can be purchased in sizes and configurations to fit almost any walk in shower stall. Some are designed to fit in corners, while others fit in the wall itself.
A wall niche is a great way to maximize room space without sacrificing other design elements. With the proper construction and lighting, a wall niche is the ideal way to display the items that are most beloved by homeowners.
Sours: https://designingidea.com/wall-niche-ideas/
Top 40 Best Recessed Wall Niche Ideas – Interior Nook Designs
The recessed wall niche has been a mainstay since the Classical Age, the mark of a truly stately home and world of riches within.
These top 40 best recessed wall niche ideas can display all your own worldly treasures, from valued art pieces to eye-catching flora & fauna, and shine a light–both real and metaphorical–on the nuances that set your home apart from the others.
Traditionally mounted in a tall and slender curve, the recessed wall niche can now be seen in a variety of shapes and sizes, standing alone or in a series. Perfect along a staircase or hall, recessed wall niches add depth and gallery-level ambience to any space, as well as act as safe and convenient placekeepers for your fragile objets d'art.
When the precarious coffee table or shelf won't do, the recessed niche strikes a subtle balance between decor and look-don't-touch insurance against accidents. You've worked hard to build the home you and your guests now enjoy, and what better way to show off your signature pieces than with an exquisitely crafted wall niche or nook?
Centuries of use have finalized the recessed wall niche's place in mainstay architecture, and your own variation will no doubt prove that the time-honored classic needn't be outside the moment.
Your modern abode is ready to be shown off in all its facets, and the recessed niche–or series–is ready to rise to the occasion, no matter the occasion.
Sours: https://nextluxury.com/home-design/recessed-wall-niche-ideas/
Gaudi Decor Recessed Wall Niche 30 Inch High Primed White Polyurethane N733FB
Welcome to the world of Gaudi Décor
The Gaudi Decor Collection was established in July 1993 and comprise of architectural moldings and decorative ornaments.
Our products are manufactured to meet very high quality assurance standards. They are environmentally friendly and can be used for both interior and exterior purposes. They are impervious to adverse climate and weather conditions, and, because of its dimensional stability, will not alter over time. Products are produced in exclusive molds that yield ornate and sharply defined details, perfect dimensions, and extremely consistent quality. The Gaudi Decor Collections are perfect for your interior decoration projects as well as DIY purposes.
International Recognition (ISO 9001 certified): Our success, both domestically and internationally, is a reflection of the wide recognition given to our consistently high quality products, prompt delivery, our innovation, marketing support, supply reliability and our customer-oriented business philosophy. The company is certified ISO 9001:2008 and thus reflect its commitment towards quality.
Research & Development: Despite its already strong position in the market, We continue to invest both effort and resources in Research & Development, innovating designs and manufacturing processes, in its unending search
The Product: Traditionally, Ceiling Roses are used as a decorative piece on the ceilings to add grandeur to the chandeliers. Our Ceiling medallions are modeled after the original historical patterns and designs. Today, some designers are using it as an ornament for the ceilings and walls. Gaudi's ceiling roses offers the flexibility of having them colored in our standard colors for an artistic outlook.
The seller: All our Polyurethane medallions, corbels, moldings and molding accessories are in stock and usually ships the same day as ordered. Please e-mail or call us for any questions, we are happy to assist you!
Sours: https://www.amazon.ca/Gaudi-Decor-Recessed-Primed-Polyurethane/dp/B00XWJRJ46
Wall Niche Design Ideas 2021 - Recessed Wall Niches Designs - Niche Ideas for Wall Decoration
This post may contain affiliate links. I may receive commissions for purchases made through links in this post. Please read the disclosure.
.
Our homes can full of interesting and unique features. It's what makes them so different from the next home. Interior niches can be a part of these unusual features and sometimes it can be a challenge to figure out what to do with them.
Wall niches or alcoves can be a great way of creating a focal point. As well as injecting your personality in to the space. And even making practical use out of something that maybe considered a little "awkward".
Interior niches or alcoves can be found all over the home, in living rooms, bedrooms, entryways and any other room in the house! Depending on the space you can turn your wall niche into an amazing feature. Here are some top ideas and inspiration for decorating and styling those home details!
Wall Niches Living Room
This beautiful arched wall niche has been given a subtle colour contrast. A cute pale pink pops out from the white wall with plenty of space to display books and knick knacks.
Another curved wall niche but this one is a little shallower in depth. An all white paint colour for the niche and the walls for a minimal look. Two simple shelves along the wall niche gives the focal point for the wall and storage.
If you have a deeper wall niche you can think of creating some hidden storage by making a cabinet on the lower third of the niche. Use shelves on the upper section if you have a few favourites you'd like to display rather than one big item or canvas.
This wall niche has been divided even further by separating the arch shape into two halves. Minimal styling completes the look with no hardware on the cabinetry.
Shelves don't have to be used all the way up the niche. Even when the wall niche goes from the floor to ceiling.
Fireplace Niches
Empty spaces next to the fireplace need some consideration on how they're designed. Using a different colour on the niche from the fireplace brings attention to both features. Niches on both side of the fireplace gives plenty of storage space.
For this living room design they've chosen to use the spaces either side of the fireplace in different ways. One side has a beautiful window seat and the other side utilizes the majority of the niche with shelving.
A really simple design for the living room space, using a low built in shelf along the back wall. The feature connects the fireplace and gives a dual purpose either side of the fireplace as a bench and shelf.
Bathroom
Bathroom wall niches are a great way of displaying your favourite decor pieces. Think about how you can style it and how it feels. This bathroom niche gives a spa like feel with thoughtful styling with only a few key pieces.
Hallway
Making the most out of an awkward corner in hallway can be put to some good practical use with a built in bench. Probably one of the best ways to keep things organized for the hallway area.
Bedroom Niches
A beautiful botanical wallpaper is used to highlight the inside of the interior niche beside the bed.
Go ultra minimalistic with a Wabi Sabi inspired look. Just by using two simple pieces you can create an impactful styling statement.
A bold and bright colour block can bring some fun and creativity into a simple space.
Some salvaged wood has been used to create a unique wall niche. The wood adds warm and texture in the neutral space.
Big Wall Niches
If you have a big and deep wall niche, bang in the middle of the wall there's not much way of hiding it. It's better to put the interior niches to practical use!
I love the vintage feel of this area! The black chalk paint and the dark wood together and the thrifted style pieces along with the wicker basket look great.
An all minimal styled nook with live edge wood shelves to add character.
Create a sit down area with the deeper wall niches, as a home office space or a coffee breakout area.
Measure up and source a free standing piece of furniture that will fit perfectly in the recessed wall niche and style accordingly!
Top Tips For Styling
Styling your niche with a framed photo or flowers is great way to highlight the niche and the decor. Just make sure that whatever piece you use isn't filling up the whole niche. A good rule of thumb is to fill it two thirds of the way.
You can also decorate the wall niche in a different way. By just painting the wall niche the same colour as the rest of the room it fades in to the background. This way you can bring attention to other features in the room that you feel are more important.
If you want to have some fun you can colour block your niches. Using a contrasting colour to the colour of your walls. Still add some decor or a frame to the area. Otherwise you're just highlighting the area for no reason other than it being an interior niche. Give it a purpose.
In the same way that you can use a play on colour to highlight the niche you can add a wallpaper to the inside instead.
Have you got any interior niches in your home? What have you done with them? Let me know in the comments below.
Chloe

alcove ideasinterior nicheinterior niche ideasinterior nicheswall niche ideas
Sours: https://chloedominik.com/interior-niches-decorating-ideas-18-amazing-ways/
Decor recessed wall
.
AWKWARD SPACE SOLUTIONS - Niches, Alcoves, Ledges, and Cutouts - Julie Khuu
.
You will also be interested:
.
448
449
450
451
452