Kawasaki KDX 220R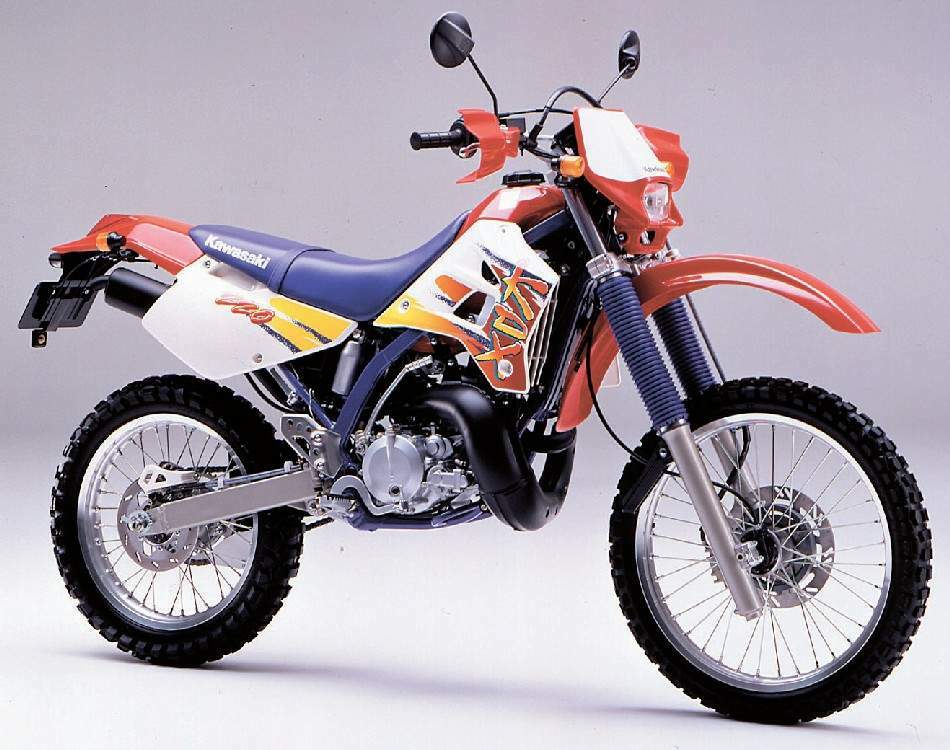 Make Model

Kawasaki KDX 220R

Year

2000 - 02

Engine

Two stroke, single cylinder, reed valve

Capacity

216 cc / 13.1 cu-in
Bore x Stroke
б9 х 58 mm
Cooling System
Liquid cooled
Compression Ratio
9.3:1

Induction

PWK33 Keihin PWK35 carburetor

Ignition

Electronic CDI
Starting
Electric

Max Power

37 kg / 27.5 kW @ 8000 rpm

Max Torque

3.5 kgf-m @ 7000 rpm

Transmission

6 Speed
Final Drive
Chain
Frame
High-tensile steel perimeter design

Front Suspension

43mm conventional cartridge fork

Rear Suspension

UNI-TRAK® single-shock system

Front Brakes

Single 250mm disc 2 piston caliper

Rear Brakes

Single 230mm disc 1 piston caliper

Front Tyre

3.00-21

Rear Tyre

4.60-18
Rake
26.5°
Dimensions
Height 1229 mm / 48.4 in
Width 889 mm / 35.0 in
Wheelbase
1435 mm / 56.5 in
Seat Height
919 mm / 36.2 in If adjustable, lowest setting
Ground Clearance
340 mm / 13.4 in

Dry Weight

101.0 kg / 222.6

Fuel Capacity

11 Litres / 2.9 US gal

KDX Model History
1983 KDX200 A1
All new in 1983
198cc engine vs 173cc previous
Displacement gain is through longer stroke, same bore diameter as the 175
32mm Mikuni carb
New gear ratios in six-speed transmission
Seven plate clutch versus six plates for the KDX175
Chassis based on 1983 KX125; steel tubing, box-section aluminum swingarm
New single-strut Uni-Trak rear
Damping adjustable aluminum body shock
38mm Kayaba forks, 10.24 inches suspension travel (frt/rr)
Electronic odometer
Claimed dry weight of 207 pounds
1984 KDX200 A2
Available in green, or black frame with red plastic
Piston clearance changed to address seizure problem with A1 models
Fork drain plugs relocated to rear of sliders
Redesigned aluminum swingarm
KX125-style rear wheel with straight-pull spokes
Larger 3.2 gallon fuel tank
1985 KDX200 A3
New 34mm Mikuni "R" slide carburetor
1986 KDX200 C1
New KIPS powervalve
New front disc brake
New 43mm conventional forks
New rear shock
Taller first gear ratio
Larger flywheel and clutch assembly
Plastic hand guards on handlebars
New seat
1987 KDX200 C2
1988 KDX200 C3
Available as green, or silver frame with white plastic
The KDX200 E1 in 1989. Photo courtesy of Paul Clipper Archive/Trail Rider Magazine.
1989 KDX200 E1 – KDX Model History
Available as green, or blue frame with white plastic
First liquid-cooled KDX200 engine
New KX-style frame design
Rear disc brake
Heavier crank webs
Heavier clutch springs and more plates (seven steel/eight friction)
Quick access clutch cover
Dual wall expansion chamber for sound muffling
Aluminum spark arrestor/muffler
43mm forks with 20 compression damping adjustments
KX125-based shock with 16 compression and 16 rebound adjustments
Increased suspension travel—11.4 inches front, 11.8 inches rear
Swingarm offers quick release access for rear wheel
Front axle with pull handle
Larger airbox
Return to mechanical odometer from electronic odo of the past few years
47-tooth rear sprocket vs. 48-tooth previous
1990 KDX200 E2
Available as green, or blue frame with white plastic
1991 KDX200 E3
Available as green, or blue frame with white plastic
1992 KDX200 E4
1993 KDX200 E5
New 41mm upside down forks
1994 KDX200 E6
New 43mm inverted Kayaba forks
1995 KDX200 H1
First perimeter frame KDX200
43mm Kayaba non-USD cartridge forks
New engine mounts to combat vibration
KX-style powervalve
Higher cylinder compression
New crankshaft with stuffed webs and balancers
Larger radiators
Bigger clutch
Taller seat height
Smaller fuel tank (4/10 gal.)
1996 KDX200 H2
No changes for 1996
1997 KDX200 H3
1997 KDX220 A4
220 piston is 3mm larger than 200
220 carb is 2mm smaller, 33mm Keihin
O-ring chain
Heavier clutch springs
1998 KDX200 H4, 1998 KDX220 A5
1999 KDX200 H5, 1999 KDX220 A6
2000 KDX200 H6, 2000 KDX220 A7
2001 KDX200 H7, 2001 KDX220 A8
2002 KDX200 H8, 2002 KDX220 A9
2003 KDX200 H9, 2003 KDX220 A10
2004 KDX200 H10, 2004 KDX220 A11
2005 KDX200 H11, 2005 KDX220 A12
Last year for KDX220
2006 KDX200 H12
Last year for KDX200
KDX200 Cyclepedia Staff Review
First a little KDX model history. In 1983, Kawasaki's KDX175 evolved into the KDX200. It wasn't a totally surprising move, since the AMA class displacement range for off-road racing had been changed to "126-200cc" and Honda had introduced the XR200 in 1979. Still, the additional 25cc of displacement made a huge difference in the 200cc two-stroke class. The KDX's main competition, the PE175 Suzuki and the IT175 Yamaha, suffered for the lack of horsepower and the KDX200 emerged as the king of the class.
The KDX enjoyed a 198cc air-cooled, reed-valved engine that had been massaged by the members of the True Sport Racing team (see the KDX175 page on Cyclepedia). "I vaguely remember a KDX175," joked True Sport team manager Jack Penton. "Our primary focus while racing in 1980 and '81 was the development of the KDX200." So yes, the bikes True Sport raced at all the nationals were 200cc prototypes. Primarily, the team had worked out porting and carburetion specifications by the time True Sport was disbanded in 1982, and had also calculated optimum transmission ratios for the KDX, among many other refinements.
"We got a kick out of the KDX's progress after Tue Sport," said Jack Penton. "We came up with so many refinements for that bike, and Kawasaki was smart. They didn't release all of them at once to create a killer 1984 or '85 KDX200. Instead they trickled them out for years, so the KDX always had new and appealing features. It was smart marketing."
The first 200cc in 1983 was a fine bike, as a result of all this development. The 200cc engine delivered ample power off the bottom to make the bike easy to ride, but when the KDX "came on the pipe" it delivered a huge midrange hit that impressed testers from every magazine. "The best word is "violent," Dirt Bike magazine said. "The power comes on so hard and fast that if the rider isn't paying attention, the KDX will leap right out from under. When the front end comes back down the bike will rev out until it sounds as if it's ready to explode, and will make power all the way to the top. Amazing!"
Less exciting, but possibly more important, is the improvement in the gear ratios in the 200 versus the KDX175. Jack Penton and the True Sport riders, along with engineering help from Tom Penton, tested and worked out gear ratio numbers that made the KDX virtually flawless as it was worked up through the gears. The combination of good, ridable power output as well as a sensible progression through the gears made the KDX hard to beat.
The KDX engine remained air-cooled until 1989. This may appear stone-age by present-day standards, but one big advantage remains from the lack of radiators, coolant pumps and plumbing: low weight. The early KDX200 claimed a dry weight of 207 pounds, quite light at the time. Jeff Fredette tells a story in March 1984 Dirt Bike magazine that, in the strict ISDE rules at the time (1983 Wales) he and Fritz Kadlec had to add 12 pounds of steel bars plus carry an extra 520 chain in the tool bag in order to meet the minimum weight requirements.
Looking back, handling and suspension on the KDX was a curious mix. Reading all the test reviews of the time, a common consensus comes out: The suspension components were nothing special on the early KDXs, but the chassis design carried the KDX to the top of the class with ease.
Frame design is as much of a black art as it is a science, and somehow Kawasaki managed to put together a chassis that appeared to be too long—in some cases two inches longer than the competition—creating a very stable platform for high-speed running. At the same time, the synergy between the fork angle and the Uni-Trak rear allowed the KDX to turn easily and precisely under any conditions.
And this included sub-par suspension units. The Kawasakis were notorious for coming from the factory with less than an ideal amount of oil in the forks, and they were also sprung for fairly lightweight riders. The stock forks were easy for an aggressive rider to bottom out, and so was the rear end, depending on rider weight. In spite of this, the KDX was a brilliant handling bike. Once the suspension was set up with the correct springs for the rider's weight, and the fork oil level was set correctly, no one could dispute the handling superiority of the KDX.
Major Revisions – KDX Model History
The first three years of the KDX200 came with the model designation "A"—A1 through A3. Whenever there was a major revision to the line, the letter designation changed in a way that made little sense to the consumer. The next 200 in the series was the 1986 KDX200 C1; there was no "B1."
The C Series (1986-1988)
The C1 KDX was an interesting machine. The engine remained air-cooled, but the finned cylinder grew a power valve, the common name for a variable-height exhaust port. The Kawasaki KIPS valve (Kawasaki Integrated Powervalve System) changed the timing of the exhaust port and also controlled two exhaust sub-ports. The net effect of the KIPS was to increase mid-range and low-end power slightly. Magazine testers of the time noted that the KDX200 C1 was "better suited for faster riders," acknowledging the increase in power as another step forward as a racing bike rather than a beginner's trail bike.
A very welcome improvement of the C1 was the addition of a disc front brake, relieving the drum brake problem by about 50 percent. Until the mid-80s most all enduro and trail bikes had drum brakes at both ends, well known to foul and lose effectiveness in mud and water, so the switch to a disc front was a significant improvement. It would be years yet before the KDX received a disc rear.
Major changes in the suspension also appeared on the C1, most significant was 43mm Kayaba conventional forks, increasing the flex-resistance (and therefore the steering accuracy) of the KDX. The rear shock was also improved, with a multi-adjustable aluminum bodied Kayaba unit that increased rear suspension travel to 11.4 inches. The fork travel was 10.6 inches.
Suspension action was still soft, keeping the KDX down in the enduro and trailbike category unless the owner invested in stiffer springs front and rear.
A larger clutch and a larger flywheel were built into the new KIPS-powered engine, and the gear ratio of first gear was raised to take advantage of the increased horsepower and greater flywheel affect.
The E Series (1989-1994)
The next major change came after three years of the "C" series KDX, and that was the KDX200 E1. In it, two of the most lusted-after changes were incorporated, and of course those two were a liquid-cooled engine and a rear disc brake. Finally the KDX was lifted to the level of the motocrossers of the time, and magazine testers asked the question, "Who could ever ask for more in an enduro bike?"
Predictably, the major changes on the '89 KDX200 E1 caused a couple of headaches, in spite of all the joy. Both could be attributed to honest ignorance, one in the case of the factory, one in the case of the KDX rider.
First off, cooling the engine of a trail bike was a different matter than cooling a motocrosser. Enduro and trail bikes had to occasionally crawl through airless woods and rock gardens where slow-going was the only way to survive. That's where the riders took them, and the new liquid-cooled KDX overheated dramatically. It would be a couple years before coolant flow was improved enough to reduce the troubles with boiling coolant, and in the mean time accessory companies were creating all sorts of special anti-freezes and cooling system fixes, not just for the KDX but for all water-cooled bikes of the time.
At the same time, riders were being asked to switch from barely-working drum brakes to disc brakes, and nearly all of them were used to dragging the rear brake all the while they were on the gas. The upshot of this was that the new rear disc overheated and wore pads away in no time. Tougher pads were developed, but the most important change, over time, is that riders finally adapted to the much more powerful disc brakes and stayed off of them except when they needed them.
Those were the two main complaints of the E-series KDX, but they were easily overshadowed with how well the new bike worked in the woods. The KDX suspension was still soft; sufficient for the woods but would bottom out in high speed sections. Handling was excellent, owing to the KX125 chassis, but for the first time the bike was reported as being a little "busy" in high speed rough riding. The short story was that the KDX was turning more into a race bike with every series change.
Special features of the E-series included a quick-change rear wheel, facilitated by a new axle slot in the swingarm, and a pull-handle on the front axle to make it easier to remove. A bigger clutch and a greater amount of crank mass counteracted the increase in horsepower, keeping the bike tractable. Suspension stroke was increased a quarter-inch on both ends, and a double-wall pipe helped quiet the bike, while creating protest that the pipe was too heavy.
A significant but often overlooked change on the E1 KDX was the switch to a 12 volt electrical system, versus the six-volt system that had been used since the KDX175. The airbox was now bigger and easier to get at; and in a surprise move, Kawasaki did away with the electronic odometer and went back to a mechanical one.
The H Series (1995-2006) – KDX Model History
The final series of KDX machines were the "H" models, significant for the new KX-style perimeter frame. With the H series, Kawasaki finally moved the KDX into the realm of the race bike. There were so many changes on the H1 that it could be considered a completely new bike. 43mm conventional slider cartridge forks replaced the inverted forks from the year before, and of course the frame was completely new. The seat height was taller, thanks to the frame, and the fuel tank held slightly less. The liquid-cooled engine was completely new, with a new guillotine-style powervalve from the KX bikes, higher compression, a new crank and bigger clutch.
In spite of all these changes, the KDX still rode like a KDX, pleasing just about everyone. It still felt stable in the woods, still turned quickly in the trees. The seat height had been getting taller every year, but all bikes were taller and few complaints were heard. The new engine and its mounting configuration had finally reduced vibration to a distant memory on the KDX, and magazine reviewers wondered what Kawasaki could do to improve the 1995 KDX. The answer to that question was—very little. The KDX200 went on for another 12 years with very few changes. It was a 26 year run for Kawasaki's most successful trail bike, ending with the bike being discontinued in 2006. The onslaught of the racing four-strokes and confusion over the future viability of two-stroke off road machines eroded sales of the KDX, and it was bumped to make room for the KLX series of four-strokes.
The KDX220
Kawasaki carted a group of worldwide offroad journalists to Idaho in 1997 to introduce their new baby—the KDX220. The setting was fabulous, no expenses were spared, and the riding was top-notch. The trouble was, the bike was confused. The 220 was a KDX200 with a 3mm larger bore and a 2mm smaller carburetor. Everyone assumed the 220 was created to compete with the 250cc competition on a more level playing field, but the 220 felt slower than the 200. Almost everyone in attendance preferred the 200 to the 220, but the magazine reviews of the time tried to be very kind to the KDX220.
The all new KDX220A4 was introduced at a press event in Idaho in 1997
In the long run, it was determined that the 220 could actually be faster than the 200, but it needed a lot of work to get there. Careful porting, head work and boring out the carb was the key, along with an aftermarket pipe and silencer. The 220 sold well to racers and trail riders who wanted a "small 250," but the existence of the 220 did not create a new market; instead it cut into the market established by the KDX200.
The 220 was definitely the unfinished racer, and in truth its presence on the showroom floors may have diluted sales of the KDX200 as well as its own (who would be pleased to buy a 20cc larger KDX and then find out it was slower than the 200?) and hastened the demise of both machines.
Source cyclepedia.com
Sours: https://www.motorcyclespecs.co.za/model/kawasaki/kawasaki_kdx220sr%2095.htm
2005 Kawasaki KDX 200
Offroad
Water cooled, 198cc, Single, 2-stroke, Reed valve
2008 Husqvarna WR 250
Offroad
Water cooled, 249cc, Single, 2-stroke, Reed valve
2007 KTM 250 EXC
Offroad
Water cooled, 249cc, Single, 2-stroke, Reed valve

2009 KTM 250 EXC SixDays
Offroad
Water cooled, 249cc, Single, 2-stroke, Reed valve
2007 KTM 250 SX
Offroad
Water cooled, 249cc, Single, 2-stroke, Reed valve
2008 Kawasaki KX 250
Offroad
Water cooled, 249cc, Single, 2-stroke, Reed valve
2011 Yamaha YZ 250
Offroad
Water cooled, 249cc, Single, 2-stroke, Reed valve

2013 Beta 250RR
Offroad
Water cooled, 249cc, Single, 2-stroke, Reed valve with power valve
1984 Maico GME 250
Offroad
Air cooled, 247cc, Single, 2-stroke, Reed valve
1972 Yamaha DT 250
Offroad
Air cooled, 246cc, Single, 2-stroke, Reed valve
Sours: http://www.mbike.com/site/
Kawasaki KDX 220R (1997-99) technical specifications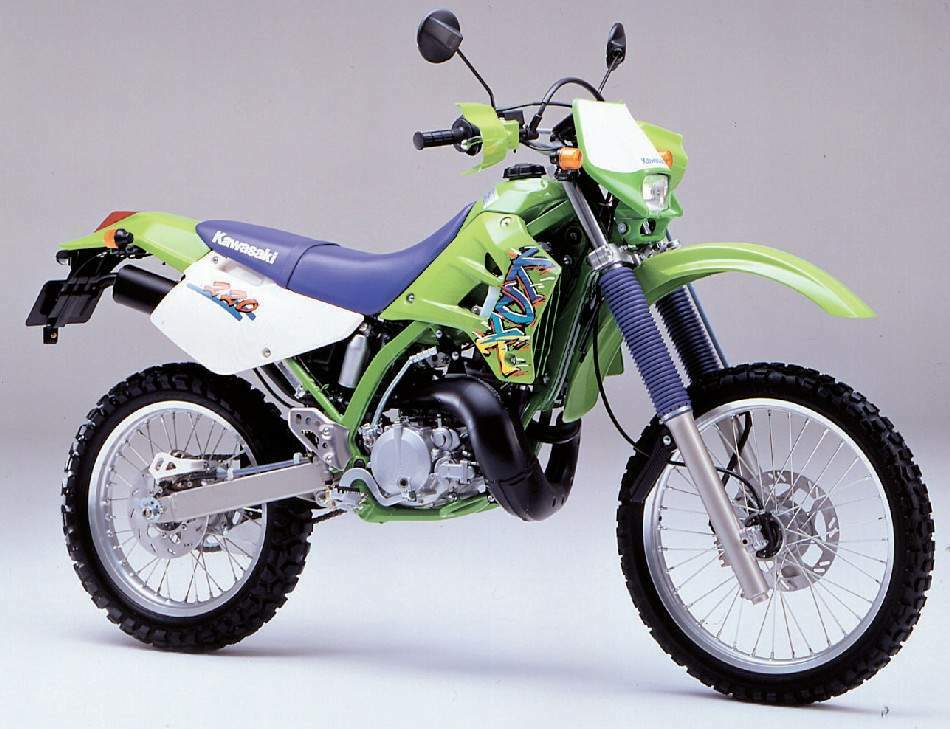 Kawasaki KDX 220R is produced in 1997-99. Engine is Two stroke, single cylinder, reed valve, displacement 216 cc / 13.1 cu-in , produces power 37 kg / 27.5 kW @ 8000 rpm and 3.5 kgf-m @ 7000 rpm. Kawasaki KDX 220R weighs 101.0 kg / 222.6. Kawasaki KDX 220R has 2 photos.
Technical specifications
+ Add to 'Compare list'
| | |
| --- | --- |
| Model: | KDX 220R |
| Years: | 1997-99 |
| Engine: | Two stroke, single cylinder, reed valve |
| Capacity: | 216 cc / 13.1 cu-in |
| Bore x Stroke: | б9 х 58 mm |
| Cooling System: | Liquid cooled |
| Compression Ratio: | 9.3:1 |
| Induction: | PWK33 Keihin PWK35 carburetor |
| Ignition: | Electronic CDI |
| Starting: | Electric |
| Max Power: | 37 kg / 27.5 kW @ 8000 rpm |
| Max Torque: | 3.5 kgf-m @ 7000 rpm |
| Transmission: | 6 Speed |
| Final Drive: | Chain |
| Frame: | High-tensile steel perimeter design |
| Front Suspension: | 43mm conventional cartridge fork |
| Rear Suspension: | UNI-TRAK® single-shock system |
| Front Brakes: | Single 250mm disc 2 piston caliper |
| Rear Brakes: | Single 230mm disc 1 piston caliper |
| Front Tyre: | 3.00-21 |
| Rear Tyre: | 4.60-18 |
| Rake: | 26.5° |
| Dimensions: | Height 1229 mm / 48.4 in Width 889 mm / 35.0 in |
| Wheelbase: | 1435 mm / 56.5 in |
| Seat Height: | 919 mm / 36.2 in If adjustable, lowest setting |
| Ground Clearance: | 340 mm / 13.4 in |
| Dry Weight: | 101.0 kg / 222.6 |
| Fuel Capacity: | 11 Litres / 2.9 US gal |
Riders reviews
★★★★★
No riders reviews. Be the first to review this bike.

Back to Kawasaki motorcycles
Sours: https://www.moto-data.net/
Adding Power To My Enduro Bike With Crazy Results
Kawasaki KDX 200 VS KDX 220
Kawasaki KDX 200
Kawasaki KDX 220
KDX200VS KDX220
Written By: MnKDX'er (Joe Berscheid)
Welcome to the 200 vs. 220 KDX Show Down. This is a comparison between the two bikes in both stock and modified. With this article, I hope to share my own experiences with these two bikes, and help you decide which bike is the best choice for you.
I have either personally owned the described bike as equipped, or have ridden that particular set-up for long enough to collect a lasting impression. For your reference, I am a middle-of-the-pack Vet A tight-woods rider, 5'-11" and 180#.
At The Dealer
The retail price is higher for the 220. For this higher price, you basically get an o-ring chain, and a larger bore engine. All other transmission, chassis, and suspension features are the same. The following is part of the Kawasaki spec sheet with differences highlighted in blue.

Kawasaki KDX 200
Engine: type2-stroke single cylinder2-stroke single cylinder
Displacement: 198cc
Bore x Stroke: 66.0 x 58.0 mm
Compression ratio: 7.9:1 (high speed) 9.4:1 (low speed)
Carburetion: Keihin PWK35
Induction: 6-petal reed valve
Final Drive: Standard non O-Ring Chain
Transmission: 6-speed
Wheel travel Front: 11.4 in.
Wheel Travel Rear: 11.8 in
Ground Clearance: 13.4 in.
Seat height: 36.2 in
Dry weight:: 222.6 lbs.
Fuel capacity: 2.9 gals
MSRP Price: $3999
Kawasaki KDX 220
Engine Type: 2-stroke single cylinder
Displacement: 216cc
Bore x Stroke: 69.0 x 58.0mm
Compression Ratio: 7.2:1 (high speed) 9.3:1 (low speed)
Carburetion: Keihin: Keihin PWK33
Induction: 6-petal reed valve
Final Drive: O-Ring Chain
Transmission: 6-speed
Wheel Travel Front: 11.4 in.
Wheel Travel Rear: 11.8 in
Ground clearance: 13.4 in.
Seat height: 36.2 in
Dry weight:: 222.6 lbs.
Fuel capacity: 2.9 gals
MSRP Price: $4349
You Want To Race?
Both bikes can be competitive in various forms of modification. Of course, the 200 will be legal for the 200cc class, which sometimes is not as competitive. However, the 220 will be either in the 250cc, or age (Vet, Senior, etc.) classes only. On a horsepower course, the 220 might have trouble against a 250cc bike. However, if the terrain tightens up, or as the rider becomes tired, the 220's manageable power will become an advantage over the typical MX bike. Keep in mind that few riders actually use the full power of a 250 MX bike, so the 220 is not necessarily outgunned.
Handling
The two bikes will handle very similar. The suspension settings will have the greatest effect on ride and handling. However, in some specific situations which I will note, one power delivery will have an advantage compared to the other.
Start 'em up. Stock vs. Stock
Noise level: Both bikes are stealth quiet. If you have a riding area that demands quiet, either of these two bikes are the ticket. The only dirt bike in modern existence that is quieter would probably be a stock 1992 YamahaWR200.
Engine Power in Bone-Stock Tune
KDX 200
: If you plan to leave your bike absolutely stock, the 200 is the better all around terrain bike. Nice wide power spread with ample low end power and some upper rpm power available if you want to scream it out. Note that by "scream it", I mean relative to the 220. Compared to a typical 125, both the 200 and the 220 are low rpm torquers.
KDX 220
: The 220 is a complete torque monster in stock form. It is the king of tight sections, the master of nasty conditions. If you want low end power, this baby has it, and lots of it. Probably an ideal bike for tight, rocky, hilly, terrain. The engine is so strong down low, it can be tough to stall. To pull a wheelie, shift up a gear. The 220 will easily pull a gear higher than the 200 in the same conditions, and probably needs to, as it does not turn nearly the revs as the stock 200.
Bring on the pipes and wake those KDX's up
(Note that all bikes described are with the stock porting.)
Kawasaki KDX 200
200
w/ FMF ( http://www.motosport.com/fmf-torque-pipe)Torque pipe w/ stock silencer. Instant improvement across the powerband with a nice upper rpm power boost, as well as extra rpms to the top of the powerband. By far, the best bang for the buck to get the 200 powered up. Bike retains most of its stealthness with a mild exhaust note from the single wall pipe.
Note- Adding a pipe to either the 200 or the 220 will help the rider to better deal with the soft front suspension as the bike will loft the front wheel much easier.
200
w/ torque pipe ( http://www.fmfracing.com/Products/MX/57) w/ aftermarket silencer. Same benefits as pipe only, but w/ a noticeable power increase at mid rpm, and slightly more on top. The mid rpm increase can be a mixed blessing; sometimes this extra power boost can actually make the bike harder to control in tight riding situations. Noise level depends on choice of silencer, which will be covered later.
200
's Powerband w/ these mods- Strong off idle, then a little flat until a nice healthy mid range boost which transitions into a strong top end pull that flattens out almost a little early. An aftermarket silencer will add to the mid range boost and a bit to the top end power.
Gearing Changes- With the stock gearing, the piped 200 will seem to be a bit touchy about what gear it can pull. With a 50T or 51T rear, or a 12T front, the bike can be shifted early, and yet pull the next gear. Note that with a 49T, or larger, rear sprocket the chain will need to be lengthened, but the 12T can use the stock length 108 link chain. If you do use the 12T front, watch for swing arm buffer pad wear. http://www.motosport.com/fmf-fatty-pipe-powercore-2-silencer-combo
Kawasaki KDX 220
220
w/ torque pipe, stock carb, and aftermarket silencer- Nice power increase across the powerband similar to the 200, however the 220 still does not turn the revs that a 200 will spin happily. A good choice for a person who craves stump pulling power with a smooth transition to a strong midrange, but doesn't want yee-haw top end kick.
220
w/ torque pipe, bored carb, Reeds, and aftermarket silencer- Now we're talking a really nice wide-wide powerband! This is my own bike's set up, and I must admit that Ireally like the bike. The powerband begins considerably lower than a 200 w/similar mods, and yet will spin out to about the same top rpm levels as the 200. Although, it may feel like it could turn a few more revs, the powerband is so wide that you can shift early and still easily pull the next gear. Think of this set up as a 200 with a powerband that is twice as wide. This extra powerband width is most appreciated in tight woods sections, but is useful on an MX track as well. Note- Plan on adding the reeds if you bore the carb, or else the engine will lose the wonderful low end, right off idle, snap. However, with the reeds the low end power will be almost the same as with a 33mm carb.
220
(w/ bored carb, Reeds, and aftermarket silencer) Rev pipe, vs. Torque pipe- Comparing the rev pipe to the torque pipe, on this bike shows the rev pipe with a definite loss of low end power and a small increase in top end power. The engine will even sound different- it is quicker revving, and has much less throaty sounds at lower rpms. On the track, it is instantly noticed that the engine has lost some of its wonderful low end chug, but it does have a slightly increased and extended top end power. My opinion is that the small gain of top end power was not a good trade off for the loss of low end power. I would reccomend the torque pipe as the best all around pipe for a stock ported 220 w/ the mods described.
220
w/ Stock carb and Rev Pipe- I have not ridden an actual 220 w/ the rev pipe and the stock carb to speak with experience. However, based on the 220's powerband increase with the 35mm carb, I conclude that the 220 needs more airflow, not a higher rpm design pipe. Therefore, I would predict- with the stock carb, the torque pipe would produce more low end power, and comparable top end power to the rev pipe. My reasoning is that the engine has run out of air long before the torque pipe reaches the limit of its dynamics.
Gearing Changes- With the stock gearing, the 220 will pull each gear compentently, but the ratios will seem a bit too far apart under some conditions. With a 49T or 50T rear, the bike can be shifted early, and will easily pull the next gear. Note that with a 49T, or larger, rear sprocket the chain will need to be lengthened. I would avoid using the 12T front sprocket because the 220's strong low end power will put additional stress on the drive chain and chain life will suffer.
Kawasaki 200 and 220 Silencers' Noise Levels
If I were to rank the available SA silencers by noise level, they would be from quietest to loudest- Stock (quietest by far, but also the heaviest), Answer Qualifier (discontinued, but available), Pro Circuit SA, FMF PowerCoreII, and the loudest silencer is the (now discontinued) FMF ISDE. The Answer Qualifier has a strange attachment angle which reduces the clearance between the fender and the silencer, making it more difficult to lift the rear of the bike. Also, the Acerbis 035 is claimed to be a quiet muffler, but I have never seen or heard one, and Acerbis may have discontinued the production of the KDX application..
Good luck with your decision, if it says KDX you cant go too wrong!!
Sours: https://dirtrider.net/forums3/threads/kawasaki-kdx-200-vs-kdx-220.184682/
220 weight kdx
– 2004 Kawasaki KDX 220 R

MANUFACTURER SPECIFICATIONS

Manufacturer – Make – Model – Year: Kawasaki KDX 220 R 2004
Motorcycle Style: Dirt Bike
ENGINE SPECS

Engine Type: 216 cc, 2 Stroke – Liquid Cooled – Single
Engine Bore and Stroke: 69 mm x 58 mm
Compression Ratio: 7.2:1 (high speed)-9.3:1 (low speed)
Carburetion: Keihin PWK33
Ignition System: Electronic CDI
Transmission type: 6 speed
Final Drive: Chain
Starting: Electronic
MISCELLANEOUS SPECS

Tire – Front: 80/100-21
Tire – Rear: 100/100-18
Brakes – Front: single 250 mm disc with 2-piston calipers
Brakes – Rear: single 220 mm disc with 1-piston calipers
DIMENSIONS

Overall – Length: 2121 mm (83.5 inches)
Overall – Width: 889 mm (35 inches)
Overall – Height: 1229 mm (48.4 inches)
Seat Height: 920 mm (36.2 inches)
Wheelbase 1435 mm (56.5 inches)
Fuel Capacity: 11 l (2.9 Gal)
Dry Weight (without fluids): 101 kg (222.7 pounds)

Sours: https://www.totalmotorcycle.com/motorcyclespecshandbook/kawasaki/2004-kawasaki-KDX220R
Adding Power To My Enduro Bike With Crazy Results
Make Model

Kawasaki KDX 220R

Year

2003 - 05

Engine

Two stroke, single cylinder, reed valve

Capacity

216 cc / 13.1 cu-in
Bore x Stroke
б9 х 58 mm
Cooling System
Liquid cooled
Compression Ratio
9.3:1

Induction

PWK33 Keihin PWK35 carburetor

Ignition

Electronic CDI
Starting
Electric

Max Power

37 kg / 27.5 kW @ 8000 rpm

Max Torque

3.5 kgf-m @ 7000 rpm

Transmission

6 Speed
Final Drive
Chain
Frame
High-tensile steel perimeter design

Front Suspension

43mm conventional cartridge fork

Rear Suspension

UNI-TRAK® single-shock system

Front Brakes

Single 250mm disc 2 piston caliper

Rear Brakes

Single 230mm disc 1 piston caliper

Front Tyre

3.00-21

Rear Tyre

4.60-18
Rake
26.5°
Dimensions
Height 1229 mm / 48.4 in
Width 889 mm / 35.0 in
Wheelbase
1435 mm / 56.5 in
Seat Height
919 mm / 36.2 in If adjustable, lowest setting
Ground Clearance
340 mm / 13.4 in

Dry Weight

101.0 kg / 222.6

Fuel Capacity

11 Litres / 2.9 US gal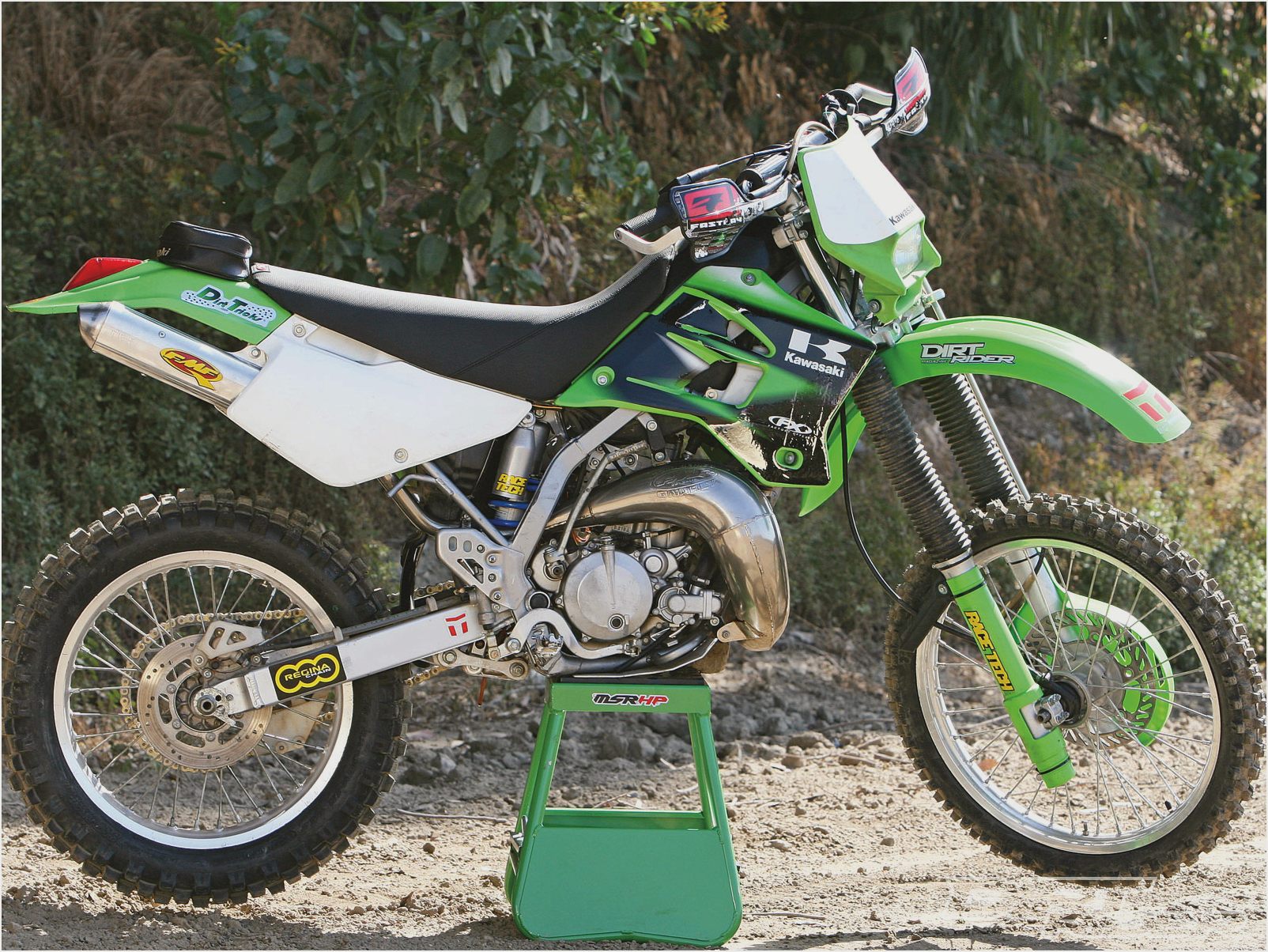 Kawasaki calls the KDX220R a "do-everything off-road bike", and after riding our test unit for a few months I'm inclined to agree with them. During my time with the KDX, I rode it on trails, fire roads, and even a natural-terrain motocross track that we often use for setting up suspension on our MX test bikes. Despite it's age, heft, and relative lack of power, the KDX220R took everything I threw at it in stride and proved an entertaining and comfortable bike for general riding.
The 216cc water-cooled two-stroke motor gives the bike excellent rideability, with smooth power delivery and respectable thrust in the low-end and lower mid-range. For relaxed trail riding the low-end grunt makes it easy to ride smoothly without downshifting too often. However, when riding aggressively, particularly on short straightaways connecting two tight corners, I often wished that the KDX would rev out a little further. The motor feels choked up in the top-end; perhaps a pipe and silencer combo would open it up and give a longer pull.
The suspension is softly sprung compared to the motocross bikes I typically ride, but it works exceedingly well on the trail, using the entire length of the stroke to soak up bumps and keep the bike tracking straight. The softer suspension means the bike likes to tackle obstacles a little differently than an MX bike, rolling the back wheel and carrying the front through large roller whoops (BMX racers would call this technique a "manual") rather than skipping over the top. Sharp edged acceleration bumps are a breeze, as the combination of suspension action and a thick, plush seat allow you to stay seated longer on the corner exit, keeping weight on the back wheel without punishing your spine and kidneys.
Braking hard into a corner, the KDX forks get way down in the stroke, which is both good and bad. The upside is that the front end dive really loads up the front wheel, giving you more confidence in the front end on corner entry. The downside is that with the fork already way down in the travel from heavy braking, there isn't much stroke left to absorb any sharp-edged braking bumps you might encounter. In this situation the fork can feel fairly harsh, and particularly nasty braking bumps can even cause the front end to bottom. However, unless your local trails are hammered by fast off-roaders every weekend, it is unlikely that you will encounter braking bumps like these anywhere but a motocross track.
In bermed or rutted corners, the aforementioned fork dive keeps the front planted as you trail-brake to the apex. However, in fast, flat corners the feedback from the tires is sometimes vague, and the back end can sometimes break loose rather suddenly. Overall cornering manners are excellent for general off-road use, particularly on tight, twisty trails.
Source Dirt Riker
Sours: https://www.motorcyclespecs.co.za/model/kawasaki/kawasaki_kdx220%2004.htm
Similar news:
Kawasaki's profilation of this bike
The KDX220R off-road motorcycle shares the same great chassis, handling and braking characteristics of Kawasaki´s hugely successful KDX200, but features slightly more engine displacement for riders who prefer a low-end powerband. Like its stable mate, it is the ´do everything´ off-road bike.
General information
Model:
Kawasaki KDX 220 R
Year:
2005
Category:
Enduro / offroad
Price as new:
US$ 4499. MSRP depends on country, taxes, accessories, etc.
Rating:
3.7 Check out the detailed rating of off-road capabilities, engine performance, maintenance cost, etc. Compare with any other bike.
Engine and transmission
Displacement:
216.0 ccm (13.18 cubic inches)
Engine type:
Single cylinder, two-stroke
Compression:
7.2:1
Bore x stroke:
69.0 x 58.0 mm (2.7 x 2.3 inches)
Fuel system:
Carburettor. Keihin PWK33
Ignition:
Electronic CDI
Cooling system:
Liquid
Gearbox:
6-speed
Transmission type,
final drive:
Chain
Chassis, suspension, brakes and wheels
Frame type:
High-tensile steel perimeter design
Rake (fork angle):
26.5°
Front suspension:
43mm conventional cartridge fork
Rear suspension:
UNI-TRAK® single-shock system
Front tire:
80/90-21
Rear tire:
100/80-18
Front brakes:
Single disc. Hydraulic.
Rear brakes:
Single disc
Physical measures and capacities
Dry weight:
101.0 kg (222.6 pounds)
Seat height:
919 mm (36.2 inches) If adjustable, lowest setting.
Overall height:
1229 mm (48.4 inches)
Overall width:
889 mm (35.0 inches)
Ground clearance:
340 mm (13.4 inches)
Wheelbase:
1435 mm (56.5 inches)
Fuel capacity:
10.97 litres (2.90 US gallons)
Other specifications
Color options:
Kawasaki Lime Green
Update specs
Report missing specs or required updates.
Further information
Insurance costs
Compare US insurance quotes from the nation's top providers.
Finance options
Compare US motorcycle loan quotes from the nation's top providers.
Parts finder
Revzilla offers up to 50% off motorcycle accessories.
Ships to most countries. CMSNL provides online schematics & OEM parts
and ships to Australia, Austria, Bahamas, Belgium, Canada, China, Croatia, Cyprus, Czech Republic, Denmark, Estonia, Finland, France, Germany, Greece, Hong Kong, Hungary, Iceland, India, Ireland, Italy, Japan, Kuwait, Latvia, Lithuania, Luxembourg, Macedonia, Malta, Montenegro, The Netherlands, New Zealand, Norway, Poland, Portugal, South Africa, Spain, Sweden, Switzerland, Taiwan, Ukraine, United Kingdom, The United States and more. Also check out our overview of motorcycle webshops at Bikez.info.
Dirt-bike parts
Dirt-bike parts and gear available from Mega Motor Madness
. Ships to most countries.
Maintenance
Find parts, fluids. filters, maintenance tools and service manuals at Amazon.com.
Ask questions
Join the 05 Kawasaki KDX 220 R discussion group or the general Kawasaki discussion group.
Related bikes
List related bikes for comparison of specs.
Pictures, trademarks and logos of third parties are the exclusive property of the respective owners. Technical specifications are subject to change without notice. Bikez.com has been developed by ObjectLabs.
Sours: https://bikez.com/motorcycles/kawasaki_kdx_220_r_2005.php
629
630
631
632
633