Yesterday, I moderated the fifth-annual Startup Alley pitch competition, presented as the opening event of ABA TECHSHOW. Fifteen startups presented their pitches to an audience of virtual TECHSHOW attendees, who then voted for their favorites.
Each startup presented a prerecorded 2.5 minute video pitch. Plus, each was allowed 30 seconds for a live introduction. While that is not a lot of time to present a product, all 15 startups did a great job.
At the end of the competition, the votes were tallied. The top five winners were:
Freelance for Law, a marketplace that connects law firms with freelance legal professionals, and that also provides a free practice management platform.
44th Street, case-analysis and e-discovery software for trial lawyers.
Della, an AI-driven contract analysis and review tool.
Legal Karma, which provides robust client portals plus the ability for firms to automate and sell documents online.
FirmVO, providing virtual offices that include brick-and-mortar space.
The 15 companies were selected through a process that began last November, when we issued a call for entries. From all the entries we received, a panel of judges narrowed the applications down to 25. Those 25 were posted on Jan. 25 for reader voting. Based on those votes, the final 15 were selected.
Congratulations to all the winners and to all the startups that participated.
Sours: https://www.lawsitesblog.com/2021/03/congratulations-to-winners-of-startup-alley-at-aba-techshow.html
We need your vote! You can help pick the legal technology startups that will be selected for the fifth-annual Startup Alley at ABA TECHSHOW 2021. Fifteen companies will be selected to face off in a virtual pitch competition that will be the opening event of this year's TECHSHOW.
In November, we issued a call for entries. From all the entries we received, a panel of judges narrowed the applications down to 25. Now your votes will select the final 15. The 15 startups with the most votes will get the opportunity to be featured at TECHSHOW, which will be held virtually March 8-12, 2021.
Below are the contenders, listed in alphabetical order. Read their pitches, check out their websites, then vote. For those that have a demo video, I've included the link.
Deadline for voting is Feb. 12, 2021, at 11:45 p.m. Eastern time. Winners will be announced on Feb. 15, 2021.
BALLOT IS ON THE NEXT PAGE. Trouble with the ballot? Go directly to Survey Monkey.
---
ADR Notable
Founded: 9/1/2018.
Headquarters: Columbus, Ohio.
Elevator pitch: ADR Notable is the end-to-end solution that suits all a mediator's needs throughout the mediation:
Capture client intake and engagement agreements pre-mediation.
Keyboard or stylus-to-text notetaking and timers to track plenary and caucus in-session.
Bill clients, make a term sheet, and delete confidential materials post-mediation.
ADR Notable is the only tool a mediator needs to keep them organized and efficient throughout their mediation and focus on finding a resolution."
How we're unique: ADR Notable is the only case management system to go "in the room," specifically designed to serve mediators before, during, and after the mediation session. It replaces the legal pad with keyboard or stylus-to-text notetaking, and the mediator can capture note content, party, and note type. Manage notes logically, link notes to each other, and even export notes to draft a term sheet. Securely store and delete files used in mediation via a secure cloud-based case management system.
Demo video (if any): https://www.youtube.com/watch?v=eTgdQYdH2z4&t=28s
Target customer: Mediators, neutrals, and ADR professionals.
Pricing: First 90 days free, then either $39.99 per user per month subscription or $34.99 per case opened. We also have a customizable enterprise plan for firms of more than three professionals.
Outside funding: No outside funding.
Traction: Our product was evaluated by 30+ mediators in 2019, proving product and market fit and traction sufficient to justify investment in the product. Launched beta in September 2020 with 25 beta testers, and then launched full product in November 2020 (soft launch). As of December 15, we have 50+ users signed up as customers. Full launch scheduled late Q1/early Q2 2021. ADR Notable was selected as one of National Law Journal's 2020 Emerging Legal Technologies.
---
Avvoka
Founded: 8/12/2015.
Headquarters: London (HQ) and Singapore.
Elevator pitch: Avvoka is a document automation, negotiation and analytics tool designed to help law firms, in-house legal teams and businesses draft documents, negotiate them, and leverage data insights to draft better documents, and get to "yes" faster. Avvoka replaces complex coding requirements of legacy tools with an intuitive, no-code approach to document automation. We provide a cloud collaboration and negotiation environment. Our analytics module provides useful insights.
How we're unique: Our tool is very intuitive and has a truly no-code approach. With Avvoka, everyone can learn to automate. However, Avvoka is very powerful and can handle sophisticated automation. Besides, we are an end-to-end tool that manages the entire life cycle of a contract from drafting to negotiation, execution and analytics. Our features increase contract creation efficiency and reduce negotiation time to reach execution faster.
Demo video (if any): Demo: https://vimeo.com/242070794. Overview: https://www.youtube.com/watch?v=yI3i8aov7g8.
Target customer: Legal and professional service providers of all sizes, legal or operations teams within businesses (in any industry), commercial, sales or partnerships teams that work with contracts and procurement teams at the front line of vendor onboarding.
Pricing: Subscription based.
Outside funding: Less than $1M in outside funding.
Traction: Avvoka has entered into a contract with LMA.Automate (Loan Market Association wholly owned subsidiary) and Allen & Overy to establish a document automation platform. We also have a wide array of clients in different industries and jurisdictions. We will soon be launching a new version of our platform with improved functionality. The newest version of Avvoka is 800 times faster than the previous, bringing a host of new features and an improved user experience.
---
BestLegalChoice
Founded: 1/1/2019.
Headquarters: Santa Barbara, Calif.
Elevator pitch: In short, we're like Uber for lawyers. We connect people with vetted attorneys who provide unbundled, limited-scope services based on need and budget. Our technology provides a reverse-auction approach as well as a marketplace to buy packaged services directly from attorneys.
How we're unique: Three things: lead generation, case management platform, client acquisition techniques and selling methodology. We're bringing unlimited, qualified leads to attorneys with the most competitive pricing in the industry. Our online platform provides complimentary case management, communication, and billing tools including free payment processing. We've developed a selling methodology for delivering unbundled legal services that we've synthesized into our technology.
Demo video (if any): https://www.youtube.com/watch?v=jUjhmqhTl1E.
Target customer: People with civil matters such as business, estate, family law, immigration, and personal injury, to name a few.
Pricing: Subscription.
Outside funding: No outside funding.
Traction: For 2020, we've generated $138,655 gross revenue. Eighty-two clients have hired one of our 107 attorneys. We've generated 1,013 client leads and 107 attorneys have applied to be on our platform.
---
Bigfork
Founded: 7/17/2017.
Headquarters: Scottsdale, Ariz., and Austin, Tex.
Elevator pitch: Bigfork's ALOE was developed by in-house lawyers to provide a single platform that allows in-house lawyers to collaborate within their organizations, implement process and controls, and free up lawyers to be lawyers and business partners instead of administrators.
How we're unique: Our solution was developed by in-house counsel who have felt the pain personally. Which is why we've included things like email integration, mobile approvals, Docusign integration, and focused on collaboration and end to end process for contracts, matters, and all things that come across the desk of an in-house lawyer.
Demo video (if any): https://www.bigforktech.com/aloe-tutorials/.
Target customer: In-house legal teams and the departments they work with.
Pricing: Per user/annual license, minimum of five users.
Outside funding: No outside funding.
Traction: We launched ALOE a little over a year ago and have gained customers primarily by word of mouth, going from zero to five customers in less than a year, with each customer that has come to an annual renewal choosing to renew. We are a women-owned small business dedicated to making in-house practice more efficient and balanced to improve the lives of in-house lawyers and the bottom line of their employers.
---
Botman.one
Founded: 11/22/18.
Headquarters: Moscow, Russia.
Elevator pitch: Visual constructor allows to create legal software without programming.
How we're unique: Our tool allows users to create legal expert systems, document generators, calculators, educational platforms, tests etc.
Demo video (if any): https://yadi.sk/i/TCTWWoJpIUs2Gg.
Target customer: Banks, legal firms, legal departments of big companies.
Pricing: Monthly payments.
Outside funding: No outside funding.
Traction: Crowd investment company, 2nd bank of Russia: VTB, Sberbank factoring company.
---
ClauseBase
Founded: 10/1/2018.
Headquarters: Leuven (HQ) and Antwerp, Belgium.
Elevator pitch: ClauseBase is a contract drafting platform that allows lawyers to turn their clauses into intelligent and reusable clauses and manage them in a clause library. From there, they can build contracts by stacking clauses on top of each other like building blocks, with ClauseBase ensuring internal consistency in terminology, grammar, styling, cross-referencing, and much more. The software also allows users to transform intelligent templates into a Q&A-style interview for easy contract generation.
How we're unique: Instead of automating entire templates, as traditional document automation software does, ClauseBase looks at the individual building blocks that make up a document. This approach allows you to not only build templates for automation in a traditional Q&A format, but also to create bespoke documents by stacking clauses on top of each other. ClauseBase also lets you upload your house style to the platform so that every document's styling is consistent, eliminating the typical battle with MS Word.
Demo video (if any): https://vimeo.com/398581600.
Target customer: Law firms and in-house legal departments.
Pricing: License subscription.
Outside funding: No outside funding.
Traction: On organic growth alone, ClauseBase has managed to onboard a significant amount of law firms and in-house legal departments across the globe. This has resulted in ClauseBase already reaching profitability by the end of its first year in business. Our customers are using the tool to generate new sources of revenue, such as building self-service document generation platforms for their clients, as well as making their own clauses available to other users.
---
Della
Founded: 6/1/2018.
Headquarters: Della has offices in London (HQ) and Paris.
Elevator pitch: Simple to set up and easy to use, Della is supplanting established contract analysis and review tools, by offering lawyers an intuitive way to review contracts. Using proprietary AI, Della allows lawyers to ask questions about their contracts, in plain English (and other languages), and get clear answers. Della learns every time you use it and recognizes that lawyers don't think about contracts in terms of "extracting clause X or Y," they just want to find the answer to a query. Quickly.
How we're unique: Traditional contract review focuses on clause detection and data extraction. Della focuses on the questions we want to ask of our contracts, allowing users to focus on legal work, not paperwork or tech. It takes 10 mins for a new user to start using Della. Our models learn directly from any interactions, allowing users to review docs faster every time. Powered by massive language models, Della reduces time-to-value, while ensuring the use of a sophisticated tool is achievable for smaller firms.
Demo video (if any): Multilingual demo: https://www.youtube.com/watch?v=ZdT6anQM8iU&feature=youtu.be; teaser video: https://youtu.be/W-WgvZnUTs0.
Target customer: Law firms and in-house legal departments, who need to speed up the manual review of contracts, either historically during an audit or pre-signature. That includes law firms of any size, as our AI can be used by anyone to help them save time. The smallest law firm currently using Della has 12 lawyers.
Pricing: Della operates on a SaaS model basis for most customers. Law firms can buy Della for one-off projects, but after trying Della, many want to benefit from the way that our system learns, so tend to buy a flexible subscription for a given number of documents a month. Corporates can buy the system on a per-user basis.
Outside funding: $1M – $5M in outside funding.
Traction: Our platform only launched in January 2020, but we are already being used by small and large law firms across multiple countries and several large multinational corporations. Those partners range in size from top UK and European law firms to smaller boutique providers and enterprise organizations. Earlier this year (2020), we launched a partnership with Wolters Kluwer to provide Della to their contract management platform customers.
---
Depositions.com
Founded: 10/1/2020.
Headquarters: Fort Lauderdale, Fla.
Elevator pitch: The first product of its kind, Depositions.com is a secured app that empowers lawyers and legal professionals to stream, playback, clip and share video on their mobile device or computer anytime, anywhere with just a tap. Files and exhibits can also be uploaded for viewing and sharing within the team. Saving firms time and money, Depositions.com simplifies video depo and document management for improved collaboration and productivity whether at the office, in mediation or at the courthouse.
How we're unique: Video depositions are exploding in popularity, but the tools of today have not been built for easily transferring, clipping, or collaborating on those videos. Our missions is to have every video, in the cloud, in a secure app that has a familiar YouTube like interface.
Demo video (if any): http://www.depositions.com/video/.
Target customer: Any law firm, large and small, and insurance companies, large and small.
Pricing: 1. Monthly seat license, with business accounts starting at $19.95/mo. with the first 30 days free. 2. Per-upload fee, which includes all the related files and exhibits associated with video depositions, starting at $9.95/upload, first upload is free.
Outside funding: Less than $1M in outside funding.
Traction: We started with a soft launch on October 1, 2020, controlling the rollout to law firms and lawyers we are already connected to, allowing them to use the platform for free and provide valuable real-world feedback and use cases for us to review and refine. Without any marketing or advertising or social postings, we have 38 customers who account for 76 active users and who have loaded 84 video depositions to date on the platform. We plan to start charging customers – and launch our marketing and advertising program – after the first of the new year, 2021. Our app was awarded "Best Legal Mobile Application" by the Mobile Web Awards this month.
---
Docket
Founded: 5/1/2019.
Headquarters: San Francisco, Calif.
Elevator pitch: Docket is a simple, easy-to-use matter management platform for legal teams. Docket automatically ingests matters ensuring work doesn't slip through the cracks, creates a centralized hub for teams to collaborate on the work, and generates insightful analytics to showcase the value legal brings the enterprise.
How we're unique: We are starting our focus by creating a product completely catered to in-house legal teams. Having a deep understanding of the work processes from small to large departments, we have designed a product that allows teams to create a system of record with minimal change in their day-to-day process. By becoming the platform used by in house legal teams, we will create a series of applications and leverage our way into selling to law firms.
Demo video (if any): N/A.
Target customer: In-house counsel.
Pricing: SaaS subscription. Pricing is per user, per month.
Outside funding: Less than $1M in outside funding.
Traction: In May 2019, we got accepted to 500 Startups as solely a pitch deck. In the short 16 months with a very lean team we were able to build version one of the product, trial a series of companies, and find paid traction from those trials. We have currently published a case study with our customer in the cryptocurrency space.
---
DorothyAI
Founded: 6/7/2018.
Headquarters: Pittsburgh, Penn.
Elevator pitch: DorothyAI applies an ensemble of advanced natural language processing, machine learning, and traditional keyword-based search models to a query in your own words to quickly identify the most relevant results, filter results, and refine searches. Patent practitioners using DorothyAI can perform their own searches in less time than patent search firms, eliminating the need for patent search outsourcers and the disclosure risks associated with outsourcing, while turning outsource fees to revenue.
How we're unique: 1. Connection: Our team has almost 80 combined years of patent practice experience, and we leverage our network to ensure our solutions solve problems. 2. Technology: We are redefining how technical documents are searched with advanced AI while recycling existing methods to make the search efficient. 3. Focus: DorothyAI will identify the best references no matter the technology quickly. 4. Experience: Our tools produce professional results with the look and feel of consumer tech.
Demo video (if any): https://www.dorothyai.com/video-demo.
Target customer: Patent agents/lawyers, in-house patent counsel, licensing managers in technology transfer offices.
Pricing: Monthly subscription ($200/user).
Outside funding: $1M – $5M in outside funding.
Traction: Our commercial offering was launched in October 2020.  Despite much interest, we have not closed any big deals yet. We expect sales to increase dramatically in 2021.
---
FirmVO
Founded: 10/1/2017.
Headquarters: New York City.
Elevator pitch: The way attorneys work has changed forever. We offer a hybrid of technology and brick and mortar office space. They are fused together to save law firms 90% or more on base rent and occupancy expenses. We offer a virtual office under one platform and in compliance with the ABA and state bar associations virtual office ethic model rules (for example, compliance with New York's Judiciary Law § 470).
How we're unique: FirmVO is the first legal tech start up to compete with the physical office and its landlord. As the historical "corner attorney office" loses its luster, we are helping our clients save on theirs #2 expense after staff. We help our members increase profits and pass on the savings to their clients. We have been meaningfully helping our member keep safe during the pandemic by them not having to venture out to stop by the office to pick up essential mail.
Demo video (if any): https://www.youtube.com/watch?v=FU-jVaGINqs.
Target customer: Mini law firms (2-12 attorneys) and solo practitioners. We also serve larger firms and our team is dedicated to building out our enterprise solution for the larger law firms in the nation.
Pricing: Monthly recurring subscription model (SaaS).
Outside funding: Less than $1M in outside funding.
Traction: We have 150+ recurring law firms subscriptions. We have grown our total revenue and members by 120% since March.
---
FoundFusion
Founded: 2/20/19.
Headquarters: Seattle, Wash.
Elevator pitch: We save time and reduce costly mistakes for legal professionals by providing insights into document relationships to help them easily find and make sense of all their documents.
How we're unique: We are the only company able to determine document lineage across all the user's folders and email accounts, allowing them to easily find and understand the full history of any document from within Microsoft Office, even without an expensive document management system.
Demo video (if any): https://youtu.be/CxdkXNZ4Fys.
Target customer: Solo and small law firms. Also applicable to mid-size law firms and legal departments.
Pricing: Annual subscription, per seat.
Outside funding: No outside funding.
Traction: Lane Powell has been our partner from the start and they are deploying the system across all their locations.
---
44th Street
Founded: 8/10/2017.
Headquarters: Chicago, Ill.
Elevator pitch: 44th Street helps lawyers understand their cases more thoroughly starting on day one. Built by trial lawyers for trial lawyers, our case analysis software accelerates your investigation, delivering compelling data visualizations that reveal your case story faster. Instantly identify data patterns and relationships with communication mapping, timelines, topic clustering, sentiment analysis, chronologies and email thread analysis. Develop your winning argument from discovery to trial.
How we're unique: 44th Street speeds up the discovery process to give users a competitive advantage in the courtroom. With its intuitive interface that includes e-discovery capabilities, 44th Street transforms data into digestible visualizations that save you countless hours. Utilizing natural language capabilities and artificial Intelligence, our case analysis software instantly identifies data patterns and relationships. Empower your team to collaborate, discover new questions, and deliver actionable insights.
Demo video (if any): https://44thstreettech.com/wp-content/uploads/2020/12/44th-Street-Brochure-Law-Firms.pdf.
Target customer: Small to mid-sized litigation-focused law firms, litigation departments of any size law firm, legal service providers, general counsel or corporate legal, regulatory and governance departments, and legal and forensic consultants.
Pricing: Subscription based, SaaS (software as a service), tiered model plan.
Outside funding: No outside funding.
Traction: We continue to build a user community in the legal market. Current users include: small law firms using the system on multiple cases for case analysis, document review and ediscovery; proof of concept with an expert forensic data collection, electronic discovery and comprehensive document and managed review  legal service provider serving corporate legal departments and law firms looking for better ways to navigate complex data matters; case analysis focused on review of 35,000 plus emails by an independent non lawyer cybersecurity specialist currently investigating a legal matter.
We are currently in our launch phase and actively building our customer base. We continue to listen to our legal user community to develop future functionalities to add that will further enhance and empower the needs of target users.
---
Freelance For Law
Founded: 7/1/2020.
Headquarters: New York, N.Y.
Elevator pitch: Freelance For Law is a marketplace that connects law firms with freelance legal professionals. Busy attorneys simply post a project (short- or long-term) including the type of freelancer, skills required, due date, and budget. Then they can review profiles, hire, securely exchange documents, monitor project status, and pay all on our user-friendly platform.
How we're unique: Unlike the very few existing law firm outsourcing marketplaces, our freelancers include attorneys and support staff (paralegals, law clerks, legal assistants, and more).
Our goal at its very core is to drive law firm efficiency, which is why we recently launched our free practice management service allowing users to create matters, upload documents, set reminders, collaborate with team members, and more.
Demo video (if any): https://vimeo.com/417775012.
Target customer: Solo attorneys and law firms size 2-9 attorneys.
Pricing: Law Firm Fee – 6%. Freelancer Fee – 15%.
Outside funding: No outside funding.
Traction: We have completed more than $10,000 in projects. More than 500 legal freelancers have signed up, 100% growth over the last 90 days, and $500k in funding. We recently launched our free practice management service.
---
JDoe
Founded: 12/1/2015.
Headquarters: Washington, D.C.
Elevator pitch: JDoe is an anonymous, encrypted platform for sexual misconduct reporting and client outreach.
How we're unique: JDoe is the world's first, end-to-end encrypted platform for reporting sexual misconduct and is available for free to consumers worldwide. Our industry agnostic platform was designed for law firms first and generates a tremendous amount of strength for consumers and marketing efficiency for law firms. Our core technology identifies repeat offenders exponentially faster than was previously possible and enables individuals to pursue collective actions against bad actors and institutions.
Demo video (if any): https://www.instagram.com/p/CHiTkzPDQxW/?utm_source=ig_web_copy_link.
Target customer: Law firms (Am Law 100 firms to sole practitioners), federal and state law enforcement (police, DoJ, FBI), schools, corporate HR, rideshare, dating apps, and more.
Pricing: We charge between $10k and $500k per client depending on the specific use case. For law firms looking to simply join the JDoe ecosystem and be listed as a resource for survivors we charge an annual subscription per state and per attorney. We also are in the business of licensing APIs, SDKs, and white-labeling our technology for businesses that are looking to address underreporting of these types of incidents in a trauma-informed manner.
Outside funding: Less than $1M in outside funding.
Traction: We launched JDoe for law firms less than a year ago and we are already working with nearly 100 firms around the world, ranging from sole practitioners to Am Law 100 firms. We help tens of thousands of survivors connect with world-class civil litigators annually. Despite COVID-19, we have witnessed firsthand a rapid digital transformation and adoption of our technology by law firms around the world.
Organizations such as Lyft, UNHCR, the FBI, DoJ, state attorneys and more have piled into our pipeline to leverage our technology to address underreporting of sexual misconduct in various community-like environments. Recently, at a college campus in Connecticut, JDoe went from having 0 reports on the campus to 75 within a week and immediately identified 12 repeat offenders. This represents more data than the university had over the course of 10 years combined regarding sexual misconduct on its campus.
JDoe generates over $250k annually from law firms.
---
Juridoc
Founded: 1/4/20.
Headquarters: São Paulo, Brazil.
Elevator pitch: Juridoc is the most complete and easy-to-use contract lifecycle management platform in the world that allows an efficient process, with reduced time and costs. Our cloud-based software facilitates the entire contract life cycle, streamlines workflow and improves compliance.
How we're unique: We are the most complete and easy to use contract lifecycle management software on the market and we are using machine learning to help our customers to become better negotiator.
Demo video (if any): https://www.youtube.com/watch?v=8Vb_lowvHJY&feature=emb_logo.
Target customer: Small and medium companies and especially legal, HR and sales departments.
Pricing: We are a BtoB SaaS solution working with monthly or annual plans per user.
Outside funding: Less than $1M in outside funding.
Traction: We have launched in July and have more than 500 users already.
---
Legal Karma
Founded: 2/26/2020.
Headquarters: Austin, Tex.
Elevator pitch: Legal Karma accelerates law firm's most important client interactions. We build client portals that allow lawyers to assign tasks/build work flows for clients, provides a ""case tracker" for clients to stay in the loop on their matter, and automate any document or form like a TurboTax for law. Plus, law firms can sell their legal services online with a menu of options. We are a client-centric portal. This isn't your place to manage your matter internally.
How we're unique: Most folks focus on client interaction from the perspective of CRM or how best they can manage their matter internally. Legal Karma is a client-centric tool that sits on top of any law practice, litigation-centric or contract-centric.
Demo video (if any): N/A.
Target customer: Law firm owners or support staff at a firm sized 1-50 for now. We have enterprise visions, but are targeting these folks now.
Pricing: $99 a month for a law firm membership. Unlimited attorneys/staff seats.
Outside funding: No outside funding.
Traction: We officially launched in October 2020. We have a dozen folks in the app with a line of 30 other folks waiting to be onboarded. We're moving slowly as the app is new and we want to provide an elegant user experience. The competitive pricing and app value are clear. Another proof point: Our users want to be investors in our tool.
---
Merlin Digital Magic
Founded: 3/15/2019.
Headquarters: Denver, Colo., and Coimbatore, India.
Elevator pitch: We build software for investigations, discovery and compliance, combining the power of AI and cloud computing with our own digital magic to make search smarter, review easier and discovery more affordable. Our software helps people easily find the information they need— without mastering complex search syntax. We created Sherlock the world's first AI-powered digital document bloodhound. It works like Pandora, only when you click thumbs up, it finds great documents rather than great music.
How we're unique: Our software, Merlin Integrated Search, is the first to combine keyword and investigative (Sherlock) search in a secure cloud platform and offer True Cloud Pricing allowing users to pay by the day, the week, the month or longer with discounts for one- and three-year resource engagements.
Demo video (if any): https://youtu.be/j0ce9NkuOi0.
Target customer: Investigators, lawyers, legal departments, government agencies and companies with large document populations.
Pricing: We plan to be the first to offer True Cloud Pricing, allowing clients to use our investigations and discovery platform on their own terms, e.g., by the day, week, month or longer, choosing the resources needed for their purposes.
Outside funding: No outside funding.
Traction: Merlin has grown substantially in size in its second year. We expect sales will take off with the release of Sherlock and Merlin Integrated Search, which will be the first AI-powered search and investigations platform delivered securely via the cloud on a pay for what you need basis.
---
Motionize
Founded: 8/16/2019.
Headquarters: New York; Omaha, Neb.
Elevator pitch: Motionize's intuitive design and navigation leads you through the document automation and creation process seamlessly. We help lawyer's save up to 80% of their non-billable time.
How we're unique: Our intuitive system takes your existing documents and our AI programs them for you. Also, unlike any other system, we have complete compatibility with Microsoft word documents and allow users to edit them with full end-to-end encryption in the cloud.
Demo video (if any): https://youtu.be/WIlxxtO0Z9U.
Target customer: Law firms under 50 attorneys.
Pricing: $60 per seat, plus optional consulting fees for document set up.
Outside funding: No outside funding.
Traction: In a mere fourteen months Motionize developed one of the most advanced, technically sophisticated document automation platforms. Already piloted with three major law firms and growing new customer subscriptions at the rate of 200% month over month, Motionize is one of the most exciting new startups to come out of the LexisNexis Accelerator.
---
Painworth
Founded: 5/1/2019.
Headquarters: Edmonton.
Elevator pitch: Painworth helps people calculate, manage and settle personal injury cases.
How we're unique: We serve end users directly and broker fast settlements and arbitration that cut through unnecessary legal hoops.
Demo video (if any): N/A.
Target customer: Consumers with a personal injury case, law firms, and insurance companies.
Pricing: SaaS licensing.
Outside funding: Less than $1M in outside funding.
Traction: Within one year, we have already been approached about acquisition. We have become the world's largest tool of our kind despite only having bootstrapped growth. Provisional patents filed and we were awarded some financial grants which allowed us to grow and gain the attention of LexisNexis, several national insurers, the nation's largest litigation financer, a major international candy company and the UK government.
---
Prelimine
Founded: 7/1/2019.
Headquarters: Arlington, Va.
Elevator pitch: Prelimine builds products that liberate litigators from procedural, formulaic, and repetitive tasks. Our first product, LitKit, targets tasks that waste litigators' time while drafting briefs and other legal documents – exhibit numbering, transferring redactions, or copy-pasting form language for discovery responses and complaints.
How we're unique: Prelimine focuses on litigators and the tasks that pull them away from their substantive work. We are not trying to disrupt or reinvent legal practice, but meet litigators where they work (in Microsoft Word) and offer small solutions to make their lives easier. The experience of our co-founder, a big law senior litigation associate, and her colleagues led to the building of Prelimine – as the solutions for their daily annoyances were not being addressed by the legal tech market.
Demo video (if any): https://www.youtube.com/channel/UC5hwoA89pQMMRqqV8EM7Kmw.
Target customer: Law firms of all sizes are our target customer; our users will likely be junior and mid-level attorneys, paralegals, and word processing.
Pricing: Enterprise-wide licensing based on law firm size.
Outside funding: No outside funding.
Traction: LitKit just wrapped up beta testing and will launch in January 2021. Since our testers' feedback usually concluded in, "Can I keep it?" we extended the beta licenses for many of our testers through January when their law firms will be able to purchase a license to the release version of the application.  Some of our testers already convinced their firms to complete the purchase in January.
---
Spectacles
Founded: 4/3/2019.
Headquarters: Bloomfield, N.J.
Elevator pitch: Spectacles patent-pending technology displays all terms defined in a document in an interactive side-panel so you can see what matters while you read. No flipping pages, no multiple document windows, no searching for definitions. Spectacles brings the definition to you. Just highlight the word and click, Spectacles will handle the rest.
How we're unique: Our patent-pending technology makes reviewing even the most sophisticated and complex legal and finance documents a breeze. Never hunt through indexes or multiple pages of a contract again. Just highlight and click, Spectacles will bring the definition to you.
Demo video (if any): https://youtu.be/QBHS–Je06c.
Target customer: Big law (multi-national AmLaw law firms); investment banks, private equity funds, private credit funds; small/medium sized law firms; and regulatory agencies.
Pricing: Software-as-a-service: Basic: $25 per month per user. Premium: $40 per month per user. Sell both bulk subscriptions to enterprises and individual subscriptions to individual consumers.
Outside funding: No outside funding.
Traction: We are currently in discussions with large multinational law firms.
---
Syntheia
Founded: 5/22/2018.
Headquarters: Sydney, Australia (HQ), and New York, N.Y.
Elevator pitch: Syntheia is a knowledge platform for lawyers. We make it easy for lawyers to do their best work by providing them with useful information at the right time and in the right place.
Our software turns legal expertise and long documents into bite-sized and reusable machine learning models and text. These models and text plug into multiple use-case specific applications – including for AI-assisted document review, automating clause bank creation, and recommending drafting in Microsoft.
How we're unique: There are five key differentiators:
Our natural language processing technology is capable of learning new legal concepts from 3 to 5 examples;
Our machine analyzes documents at a granular level, starting with document layout analysis;
Our software is deployed privately to law firms, so data is never shared;
Our applications are designed to fit existing workflows, but share learnings across them; and
We aim to fill the gaps left by incumbents, rather than challenge them head-on.
Demo video (if any): https://youtu.be/6TLHFypFnMc.
Target customer: Our target customers are primarily medium to large law firms. However, our software is also suitable for in-house legal teams and small law firms.
Pricing: We charge an annual license fee for our software. Our pricing model depends on the number of applications and seats desired by a customer.
Outside funding: No outside funding.
Traction: We came out of stealth in July 2020. As of November 2020, we have commenced pilots with one EU company, one US law firm, and two AU law firms.
---
TermScout
Founded: 5/18/2018.
Headquarters: Denver, Colo.
Elevator pitch: TermScout reviews, rates, and compares B2B software contracts based on customer favorability so that software buyers can quickly understand what they're being asked to sign and so software vendors can better understand how their contracts compare.
How we're unique: We are the world's first objective contract rating agency. While we're building our initial business in the B2B software contract space, our model is applicable to any contracts that are used on a one-to-many basis (e.g. privacy policies, employment agreements, leases, insurance contracts, and more). Our model produces high-quality contract reviews, comparisons, and ratings at extremely competitive pricing.
Demo video (if any): https://www.youtube.com/watch?v=E3cvOPQALMg&feature=youtu.be.
Target customer: Commercial lawyers at large companies and law firms.
Pricing: Ridiculously affordable access to all of our data on a subscription basis (i.e., content as a service).
Outside funding: $1M – $5M in outside funding.
Traction: We work with a handful of Fortune 500 companies, have raised $1.9 million in outside investment, won the Global Legal Hackathon 2018 (then called LexLucid), and went through the LexisNexis Legal Tech Accelerator and Techstars Boulder accelerator.
---
Trokt
Founded: 1/1/2013.
Headquarters: Des Moines, Iowa.
Elevator pitch: Thumbprinter protects vital files from fakes, forgeries, or fraud by instantly validating any file's digital originality. As files continue to rapidly move from place to place – and cyber attacks accelerate – Trokt Thumbprints provide "anchors of truth" that prove a file's validity even if its chain of custody is lost. Our Thumbprinter app can help anyone from sole practitioners to large firms, offering third-party file validation that holds up in any court across the developed world.
How we're unique: We are unique because our focus has been on creating world class security built for the "80-year-old lawyer test" – any lawyer can download, setup, and protect their files in less than five minutes.
Demo video (if any): Quick Overview: https://youtu.be/VjR5D1dwGq8. Demo: https://youtu.be/J62V8TsJL0g.
Target customer: Compliance lawyers, city governments, law firms, and local governments looking to protect official documents
Pricing: $1 per file for lifetime.
Outside funding: No outside funding.
Traction: Our average customer pays a monthly minimum model of between $50 to $1,000 a month with discounts for monthly/annual models.
---
THE BALLOT IS ON THE NEXT PAGE.
Trouble using this ballot? Go directly to Survey Monkey to vote there.
Create your own user feedback survey
Sours: https://www.lawsitesblog.com/2021/01/time-to-vote-pick-the-startup-alley-finalists-for-aba-techshow-2021.html
Three decades ago, the internet was not well-traversed and very few people even knew it existed. Fast forward to 2021 and it's an entirely different story. We live in a digital world now, and the internet is central to many aspects of our personal and business lives. These days we communicate, interact, purchase goods and services, and get work done online.
Because we spend so much time on the internet, social media and websites have become increasingly important parts of our purchasing cycles, whether we're in the market for goods or services. In fact, most consumers use the internet to conduct research prior to making important purchasing decisions, and online reviews from actual customers have become central to the decision-making process. Using these reviews, consumers are able to make more informed decisions when making purchasing decisions about products or services.
While these reviews are great for consumers, navigating the world of online reviews can be tricky for business owners, including lawyers, since responses to reviews – both negative and positive – are decidedly public. A particularly troublesome issue for some lawyers is when former clients – or even potential clients who haven't yet retained a lawyer's services – post reviews that are not grounded in fact. This confounding reality can present problems for lawyers seeking to respond to negative online reviews since doing so can detrimentally impact their online presence and can sometimes trigger ethics rules regarding confidential information as well.
Fortunately, there are ethics opinions available that offer guidance for lawyers to help them successfully navigate this challenging dilemma, and I'll share information about one of the most recent opinions at the end of this post.
But first, let's take a look at the overall phenomenon of the spread of misinformation online. Conveniently, this topic was recently covered in a Keynote at ABA Techshow, which occurred earlier this month. The conference was virtual this year, and on the third day of the conference, Renée DiResta discussed the role that technology platforms and algorithms play in the proliferation of disinformation and conspiracy theories and how to mitigate online misinformation.
Below you'll find the visual notes from that session, which were sponsored by MyCase, along with 3 things you need to know:
Bots
Because law firm consumers are online and likely reading reviews about your firm on Yelp and other sites, it's important to be aware of the influence of bots. As DiResta explained, bots are increasingly commonplace. Bots interact on a variety of different sites and do so based on the outcomes desired by the person who programmed the bot. And because bots are essentially machines interacting online, they can do so far more efficiently and effectively than their human counterparts, whether they're leaving negative reviews for your law firm or tweeting inflammatory statements designed to swing an election.
DiResta explained that bots have the potential to be very impactful and there are real world examples of this. For instance, as we all know, bots impacted national politics during the last election cycle. Similarly, bots can often capitalize on trending social media hashtags and the end result can be to sway public opinion about whatever topic the bot is programmed to address. As a result, bots are a primary example of a force that can have a drastic impact on public perception and lawyers should therefore be acutely aware of their existence and potential.
Bolstering online transparency
One end result of the impact of bots and the spread of misinformation online is the increased focus on increasing transparency on social networking platforms and elsewhere online. DiResta pointed out examples of social media sites taking steps to bolster online transparency, such as Twitter's effort to reduce the number of and efficacy of bots on the platform. Even more notable are efforts to pass legislation, some of which have been successful, that would ban bots or provide more transparency regarding their use. Once example is the recent legislation passed in California that would require bots to "identify themselves."
For lawyers, the most important takeaway is that bots exist, and can be used to spread disinformation. Understanding how bots work and how they're being used to impact access to factual information online is a key piece of knowledge that lawyers need to file away as part of their ethical duty to maintain technology competence, since a large part of meeting that duty is staying abreast of changes in technology and understanding how they might impact the practice of law.
Cross platform participatory misinformation
Another important issue addressed by DiResta during her Keynote was how misinformation can be spread across multiple online platforms, thus amplifying the deception. She offered a number of different examples of how this occurs "in the wild':
Online trolls spread conspiracies about companies across platforms
"Influencers" echo the misleading claims
Likeminded online groups collaborate to spread the misinformation on multiple social media sites
Hashtags go viral and are unintentionally promoted by uninvolved social media users
The media gets wind of the claims and amplifies the deceptive claims
For lawyers, it's important to understand how this happens and how to avoid being an unwitting participant – or the victim – of this type of misinformation spread. Again, that's where compliance with the ethical duty of technology competence comes in. Knowledge is power – and knowledge of technological advances that can impact the spread of misinformation is part of your ethical responsibility as a lawyer.
The legal ethics of reputation management
And last but not least, as promised, let's move on to how to respond when your law firm is the victim of a misinformation claim. It's never an easy issue to address, but fortunately there is recent guidance available for lawyers faced with negative online reviews, some of which may be based on false information.
A few months ago, the American Bar Association released Formal Opinion 496, in which it provided guidance and best practices for lawyers when it comes to ethically responding to negative online reviews. You can read the entire opinion for the ABA's analysis of the ethical issues presented when lawyers decide whether to respond to online reviews. In the meantime, the ABA offered the following guidance for lawyers who choose to move forward with responding:
Attempt to move the conversation offline with a response such as "Please contact me by telephone so that we can discuss your concerns"
Respond online as follows:"Professional obligations do not allow me to respond as I would wish
If you do ultimately choose to respond online, you must avoid disclosing "information that relates to a client matter or that could reasonably lead to the discovery of confidential information by others."
Finally, for even more information on reputation management and advice on how to protect your law firm, make sure to download this FREE guide: "Online Reputation Management for Lawyers: A Checklist."
Sign up for our weekly newsletter.Subscribe Now
Sours: https://www.mycase.com/blog/aba-techshow-2021-visual-notes-responding-to-online-disinformation/
FirmVO - ABA Tech Show 2021 Startup Alley Pitch
Takeaways and Tips From ABA TECHSHOW 2021
Best takeaways from ABA TECHSHOW 2021? We asked a few practice management and technology experts to share a sampling of top session tips for our annual roundup.
In the face of a pandemic and a professional year unlike any we've known, ABA TECHSHOW, the renowned annual legal technology conference, as always featured a packed schedule. Held March 8-12 this year, a fantastic slate of programs was at virtual attendees' fingertips. We're talking Microsoft 365, cybersecurity, Zoom and Teams, small firm billing and marketing, on to ethics, diversity and innovation. Of course, there was much more.
While we understand it was tough to choose, here are takeaways and tips from Sheila Blackford, Jim Calloway, Joan Feldman, Natalie Kelly, Sharon Nelson and John Simek, Juda Strawczynski, and Megan Zavieh.
Sharon Nelson and John Simek: Expert Tips on Google Ads and SEO
We were in awe of the amazing conference programming that stretched over five days. The creative skills of the ABA TECHSHOW 2021 Planning Board, co-chaired by Roberta Tepper and Allan Mackenzie, were extraordinary.
Marketing and technology converge. While we normally offer cybersecurity tips, we thought the marketing sessions were rife with good tips, so we doff our hats to Gyi Tsakalakis, Megan Boyd and Joy Hawkins for three great sessions. A few excellent tips:
If you don't know about Google Local Services ads (and we did not), you need to check them out, here. They appear at the very top of the results of a search — and you only pay if you get a lead.
Did you know some search engine optimization (SEO) and content tools are assisted by artificial intelligence? Check out MarketMuse and Clearscope.
Keep your eye on the ever-changing elements of Google's local SEO changes via Sterling Sky's free Local SEO Updates page. You can subscribe for free via email.
Google has increasingly placed more emphasis on the speed with which your website loads on both computers and smartphones. Starting in May, Google will make website loading speed a part of its Core Web Vitals.
Make sure your website is secure. Google will ding you in the search results rankings if your site lacks an SSL certificate, indicated by the "s" at the end of "https" in the URL bar. This one we certainly did know about since it is security-related, but it bears repeating because so many solo practices and small firms have not taken care of this. Put it on your to-do list today!
Here's to seeing everyone in Chicago in 2022!
Sharon D. Nelson (@SharonNelsonEsq) and John W. Simek (@SenseiEnt) are President and Vice President of Sensei Enterprises, Inc., a digital forensics, legal technology and cybersecurity firm based in Fairfax, Va. They have written 16 books published by the ABA, including "The Solo and Small Firm Legal Technology Guides"and "Encryption Made Simple for Lawyers." They are past-chairs of ABA TECHSHOW.
Jim Calloway: Quick, Usable Tips and Big-Picture Takeaways
The great thing about ABA TECHSHOW is that the educational experience includes something for every level of legal technology user. Some tips are so simple and easy you can implement them immediately. For example, during Dan Siegel's program on Adobe Acrobat DC, he noted that the bookmarks pane in Acrobat has three settings for font sizes. When I've used my laptop without an external monitor, I sometimes squinted reading the small font in the navigation pane. During his presentation, I changed to the largest font setting and it was an improvement. So that was one tech tip learned and implemented.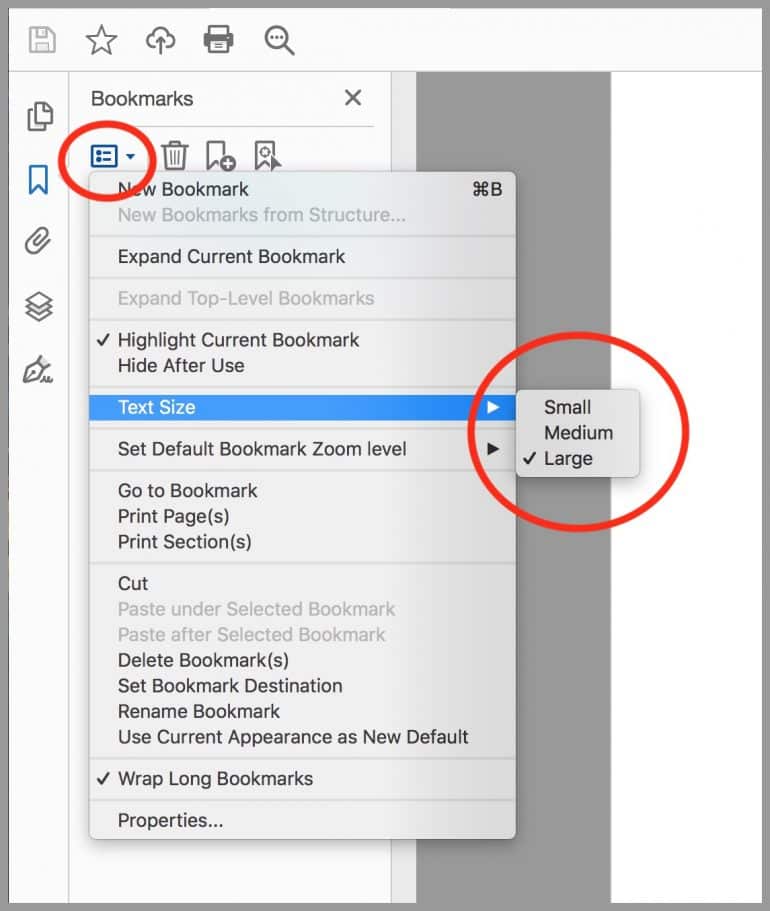 Open the Bookmarks pane, click on the menu icon in the upper left, then click on Text Size in the drop-down menu, and choose Small, Medium or Large.
For big-picture takeaways, Ed Walters, CEO of Fastcase, and Jack Newton, CEO of Clio, appeared together to discuss rebuilding law practices differently for the future. In their session "Innovating Towards a Better Normal," Newton noted that, according to Clio's Legal Trends Report, 69% of consumers prefer working with a lawyer who can share documents electronically and over 50% of consumers believe most legal matters can be dealt with remotely. Law firms should take notice. Legal expertise is important to potential clients, but whether you allow them to schedule appointments online — and whether a law firm's chatbot helpfully assists visitors in doing so — is increasingly important in new client acquisition.
Also, providing an online portal allowing clients to log in anytime to review their documents should now be considered a basic law practice service, not an innovation. I do not believe the 69% who wanted their documents electronically were contemplating email attachments. To quote my lawn guy sending me a payment link, "I'll text it. Email is so messed up."
Jim Calloway (@JimCalloway) is the Director of the Management Assistance Program for the Oklahoma Bar Association and author of several ABA books. A past ABA TECHSHOW chair, he blogs at Jim Calloway's Law Practice Tips and co-produces the podcast The Digital Edge: Lawyers and Technology.
Natalie Kelly: No-Code Tools and a Standout Roster of Diverse Speakers
While describing his tech stack, attorney Stanley Tate touted Webflow as a "no-code" tool for website building. In his very informative "Solve New Legal Problems With Technology and at Scale" session, the suggestion of using no-code tools stood out because it highlighted how users are now at liberty to make site-wide changes via a few clicks instead of having to understand a programming language or even more sophisticated building steps for using some of today's technology. Having Webflow as an alternative to other popular website development platforms also shows the shift from systems that would require perhaps an outside consultant or programmer toward building business tools anyone can use. Lawyers don't have to fear new technology — no-code solutions invite innovation by allowing more people to use cool tech to deliver legal services.
But, this wasn't the only cool thing about Tate's session. He represented a new face — a diverse face — at ABA TECHSHOW. This year's TECHSHOW Planning Board, along with the ABA Law Practice Division staff, are to be commended for showing their continued commitment to diversity by having diverse speakers. This includes a personal favorite of mine, State Bar of Georgia President Dawn Jones, and National Bar Association President CK Hoffler, who held a session on "Courageous Conversations: What Leadership in Racial Justice Looks Like," teaching legal leaders it is imperative to focus on social justice even in the legal technology space.
I enjoyed the entire Diversity track of programming, and hope this continues with future TECHSHOWs.
Natalie R. Kelly(@NatalieRKelly) is Director of theGeorgia State Bar's Law Practice Management Programand a past ABA TECHSHOW chair. She is an Adjunct Professor co-teaching Law Practice Technology and a certified consultant for multiple legal software applications. Natalie speaks and writes extensively on law office management and technology.
Juda Strawczynski: Innovation and Future-Proofing 
Using a bit of a thematic approach, here are some of my favorite tips from ABA TECHSHOW 2021.
Small is mighty. Amid all the major changes we are all going through, lawyers may take comfort knowing they can work on making their practices better incrementally. This was a theme across many sessions. Jack Newton and Ed Walters noted that we can make significant gains one step at a time. As James Clear noted in "Atomic Habits" (a book that came up more than once at TECHSHOW 2021), small changes add up to significant improvements. This mindset can help all lawyers considering how to manage our constantly changing environment.
Make the most of your existing tech. The innovation journey starts with the tools we are already using, and working to get more out of them. Many lawyers already have invested in standard software like Microsoft Office 365 or Adobe Acrobat. We can use these or existing technology platforms and software to maximize value.  Jim Calloway described how we can develop secure client portals to help law firms attract and retain clients. Dan Siegel's tips for using Adobe Acrobat DC showed how powerful the software can be, and how it's a must-have tool as lawyers move to incorporate e-signatures and file documents electronically.
Invest in tech that reduces risks and drives profit. The TECHSHOW 2021 lesson is clear: Invest in tech where it will solve your major pain points, increase client happiness, reduce your risks and improve your bottom line. Charity Anastasio and Catherine Sanders Reach presented a clear case for solo and small firm lawyers to adopt practice management software. Better yet, their session materials helpfully review important factors to consider when purchasing practice management software. A particularly helpful hint is that change management and resistance to change need to be factored in, so lawyers and firms should consider training needs, incentives, or other motivators to get everyone on board.
Keep exploring. Dan Pinnington's presentation, "Profitable and Practical Tips to Future-Proof Your Law Firm," featured an incredible throw-back to early TECHSHOWs from the 1980s. Key themes included tips to effectively use your personal computer, automation, document management, and technology as a research tool, just to name a few. These needs remain; the technology to solve them continues to evolve. Fortunately, ABA TECHSHOW provides the busy lawyer with an annual opportunity to review their practices, test out new tech and consider how to future-proof their practices.
Juda Strawczynski(@JStrawczynski) is Director of practicePRO, Lawyers' Professional Indemnity Co.'s innovative claims and risk management initiative. Prior to joining LAWPRO, he was a policy lawyer at the Law Society of Ontario and practiced litigation with a focus on professional liability, public law and civil disputes.
Megan Zavieh: Well-Being Programs and Self-Care
The Well-Being track at ABA TECHSHOW 2021 featured an outstanding series of programs, including "The Psychology of Well-Being" with solo Kimberly Y. Bennett, a "Thought Modeling Workshop" with MyVirtual Lawyer founder Brooke Moore, a session on "Tools to Activate Your Wellness Daily" with life coach Olivia Vizachero and Clio's Nefra McDonald, and, finally, a panel with all four speakers to discuss how to apply the lessons learned. I'll sum up my favorite takeaways like this:
Pay as much attention to taking care of yourself as you do to taking care of others. We have gone from wellness being a 7 a.m. run or yoga class to it being a major portion of CLE-earning courses. In that vein, speak openly about your struggles with wellness and encourage each other on a path of self-care. Vulnerability is incredibly powerful!
Megan Zavieh (@ZaviehLaw) focuses her practice exclusively on attorney ethics, providing representation to attorneys facing disciplinary action and guidance on questions of legal ethics. She podcasts on Lawyers Gone Ethical , blog on ethics at California State Bar Defense and writes Attorney at Work's "On Balance" column.
Sheila Blackford: Securing Your Practice Online 
The virtual TECHSHOW 2021 was different but some things were the same: the opportunity to listen and learn from some of the savviest techno folks ever armed with a slide deck and lavalier. I was particularly happy Dave Ries was there with his limitless store of helpful information in the session "Best Practices for Securing Your Virtual Practice." Here are some of my favorite takeaway points.
Law firms continue to be targets because they are "one-stop shops" with high-value data, usually well-organized, and often with weak security. If this sounds like your firm, Dave's advice is worth implementing before you swear off technology because the stakes are too high.
Where to begin: "Security starts with an inventory of information assets and data to determine what needs to be protected and then a risk assessment to identify anticipated threats to the information assets. The next step is the development, implementation, and maintenance of a comprehensive information security program to employ reasonable physical administrative and technical safeguards to protect against identified risks."
Where to go for the help: For solo practitioners and small firms, more basic information is available on the Federal Trade Commission website, where you'll find Cybersecurity for Small Business, and the National Institute for Standards and Technology's site, where you'll find Small Business Cybersecurity Corner. Don't overlook the American Bar Association Cybersecurity Legal Taskforce's webpage, which includes spot-on resources for attorneys and law firms, especially for the busy solo and small firm lawyer. ABA members can avail themselves of many free CLEs on cybersecurity. Another must-visit resource is the International Legal Technology Association's LegalSEC initiative, where you'll find guidelines for risk-based information security. And last but not least is the Sedona Conference's July 2020 publication titled "The Sedona Conference Commentary on Law Firm Data Security."
Sheila M. Blackford (@SheilaBlackford) has been a Practice Management Attorney for the Oregon State Bar Professional Liability Fund since 2005. She is the author of the ABA book "Trust Accounting in One Hour for Lawyers," co-author of "Paperless in One Hour for Lawyers," and a contributing author to "Flying Solo: A Survival Guide" and the Oregon State Bar "Fee Agreement Compendium." 
Joan Feldman: Is Slack or Teams Right for You?
Remote work in all its many facets was a hot topic at ABA TECHSHOW. There were a lot of great tips on the topic, but here's one of my favorites.
Slack or Teams? During their session "Collaborating: What Is the Best Tool?," Kenton Brice and John Grant revealed their very complicated formula for choosing between Microsoft Teams and Slack. The decision lies with one simple question: Do you use Microsoft Office 365, yes or no? If the answer is yes, you are going to use Teams. If not, and you are using G Suite or Mac tools, you're probably using Slack.
"If you're already in the ecosystem, and you decide you need a tool like this, just use what you already have," said Brice. "Some people don't like hearing they're stuck in this ecosystem, but, for better or worse, this is our double secret, super awesome formula," he added.
The biggest message from the session, though, was to ask yourself what problem you are really trying to fix with collaboration tools.
"When it comes to choosing Teams or Slack, the answer may be neither," said Grant, who blogs at Agile Attorney, before launching into a fascinating discussion of process and bottlenecks. (You can read his series on the topic here.)
"When we talk about all those inputs cluttering your environment, it's real." So, think twice before you add yet another.
To echo our other tipsters, virtual ABA TECHSHOW was excellent, but we can't wait to get back to the live event so we can see our favorite technologists in person at the podium and in the expo hall. 
Illustration ©iStockPhoto.com
You Might Also Like These Tech Tips From Our Experts:
"Productivity Apps and Hacks for a Smoother 2021"
"Lawyer Tech Tips: Technology FAQs for the New Normal"
"Remote Work Lessons to Take Forward From the Shutdown"
"Productivity Tools and Tips to Jump-start Your New Year"
Curious about the reinvention of TECHSHOW 2021 in the virtual realm? Listen to the January edition of Jim Calloway and Sharon Nelson's podcast, "The Digital Edge."
Also, read about Juda Strawczynski's Zoom presentation here, and Megan Zavieh's tech ethics presentation here.
Subscribe to Attorney at Work
Get really good ideas every day for your law practice: Subscribe to the Daily Dispatch (it's free). Follow us on Twitter @attnyatwork.
shareTWEETPIN ITshareshare
Sours: https://www.attorneyatwork.com/friday-tech-tips-aba-techshow-2021/
Show aba tech
ABA TECHSHOW
ABA TECHSHOW® is the legal tech event of the year for small-firm lawyers and staff. If you have any interest in legal tech or online marketing, you should plan to attend ABA TECHSHOW at least once—and we're pretty sure you'll be back.
Event Details
Date
February 26–29, 2020
Location
Virtual
Event Website
https://www.techshow.com/
Price
$400 day passes to $1,000+ (Check website for details.)
What to Expect at ABA TECHSHOW
For a legal conference ABA TECHSHOW is huge. Something like 1,500 people, hundreds of legal tech exhibitors, and dozens of presenters attend every year. And there is a lot of stuff to do.
In fact, you could say there are at least four ways to experience ABA TECHSHOW:
Come to learn. Most people come for the sessions, to learn about legal technology and online marketing and how to get the most out of their tools.
Come to network. Most of the sessions are panels, and there are a lot of sessions, which means there are a ton of speakers. It's a great place to meet the legal tech writers, podcasters, CEOs, and other people you know from the internet.
Come to shop. Hundreds of vendors pack the EXPO Hall, making it a great opportunity to connect with the people who make the technology you use in your law practice, to shop for something new, or just see what's out there. It's expected that the virtual event will have a similar vendor hall and the opportunity to interact.
A couple of years ago ABA TECHSHOW produced a short video introduction. It mostly addressed #1, above, so it is a good summary of what you can learn.
Page edited by the Lawyerist editorial team. Last updated May 19th, 2021.
Sours: https://lawyerist.com/strategy/conferences/aba-techshow/
ABA Techshow: Clio's Jack Newton on Staying Ahead of the Legal Puck
ABA TECHSHOW 2021 was held virtually the second week of March and, by all accounts was a success. The virtual conference meant that many more expert presenters were able to participate than usual.
Takeaways and Tips From ABA TECHSHOW 2021 from [email protected] featured comments from several TECHSHOW attendees, including me and a few other past TECHSHOW chairs. This feature turned out very well and I would encourage all Oklahoma lawyers to read it. There is something included for every level of legal tech sophistication.
60 in 60 is a TECHSHOW staple, leading many legal conferences around the country to have their own versions of 60 Tips in 60 Minutes. This year, there were more tech gadgets and, unsurprisingly, more tips on personal well-being than usual. In fact, noted legal tech journalist Bob Ambrogi announced in the session chat, he had opened up Amazon on his second monitor and was adding items he liked to his cart as the program progressed. The ABA Journal coverage of 60 in 60 has links to all of the gadgets '60 in 60′ included in its coverage—Techshow session features tips to improve video meetings, boost well-being.
TECHSHOW 2022 will be held March 2-5, 2022. Even though the virtual conference was great this year, we all hope that next year's event will be in-person in Chicago. Save the date. We hope to see you there.
Sours: https://www.okbar.org/cm_articles/takeaways-from-aba-techshow-2021/
Now discussing:
I always like to wait a few days before I review a big tech conference to let the impact settle in. And not just for me but for attendees and exhibitors as well. That said, here's my thoughts on the ABA Techshow 2021
This year was the first ever virtual TechShow and as such defied most descriptions I could think of using. When I wrote about the 2020 TechShow I called it Woodstock for Techies but had originally thought of calling the column "Why the ABA TechShow is like Mardi Gras" and that may be even more appropriate this year since neither one of these landmark events occurred in person. TechShow for the first time ever, Mardi Gras for only the 15th, the other times being during times of war, civil unrest or, strikingly, in 1879 due to a massive outbreak of Yellow Fever.
Mardi Gras was a wash due to cancelled parades and a terribly cold snap but the online version of TechShow was a resounding success. On the first day, for the fifth consecutive year, legal news reporter Bob Ambrogi hosted a startup competition he first brought to the table that showcases 15 finalists facing off to give a 3-minute pitch about their legal startup. Brilliant.
Then, 70 sessions in 5 days. Wow!
Multiple tracks. And when I say multiple, I mean multiplicity. Collaboration, Ethics, Diversity, Litigation, Core Concepts, Law Office Management, Cybersecurity, Disruptive Innovation, Well Being, Virtual Remote, Marketing, Future Proof, Automation, Technology, The Next 20, Lessons Learned, Business Plan Bootcamp.
And sprinkled in among all those sessions were TechTalks and micro demos from vendor sponsors and meeting rooms. You literally could not tell the players without a scorecard.
In a post-show chat I had with Co-Chairs Roberta Tepper and Allan Mackenzie, I was told that the high number of sessions was a conscious decision to increase the value of the show. Given the fact that they did not have to worry about people physically moving from room to room between sessions, it was easy to schedule more content. And to counter any problems with "Zoom fatigue" or attention span, some sessions were reduced to 45 minutes and some micro demos were dropped to 30 minutes. In addition, "non techie" sessions were a distinct focus due to Covid-19 and people feeling isolated in their various quarantine regulations.
The result was well received. Not only were the well-being sessions well attended but core concept tracks also showed high numbers. And all the practice management sessions had over 100 attendees.
55 vendors supported the conference. Several long time exhibitors did opt out of the virtual experience but those who stayed were pleased, especially companies like MyCase and CenterBase which chose to do micro demos, both of which commented on their positive experience.
Specifically, Bill Gallivan, CEO of Digital WarRoom, said that "The virtual software worked fine – it was especially good at meeting people based on how they tagged themselves (i.e.: Litigator, Dispute Resolution, solo firm, etc.)
The technology was also quite stable, no small feat when you are dealing with hundreds of simultaneous users logging in, collaborating, and downloading material. Kudos to the ABA tech team, especially Lindsey Kent and Josh Gaton.
All in all, the experience was very good. Final attendance numbers were not in at the time I wrote this, but Roberta and Allan did tell me that the number of paying attendees had exceeded last year's live show. The fact that the 2020 event gave away a high number of free exhibit hall passes may lead to a lower overall count in the end, but the fact remains the paid attendance was up in a totally new environment.
But to me the most important factor every year is the people themselves. The excitement, the camaraderie, the sense of finding something new and exciting can't be replicated in a virtual show but still the collegial approach that involved not just listening to speakers but talking to each other in meet up rooms and engaging in zoom sessions with vendor personnel in many of the virtual booths was darn close.
So Kudos to conference co-chairs Roberta and Allan for putting together a great show with great attendees and speakers, all helping each other to move the technology bar forward. I found the level of participation, enthusiasm and cooperation extremely high, something that of course we've talked about an awful lot in the eDiscovery world and found lacking for several years now. The Techshow emphasis on solo and small firm attorneys at this show bodes well for the future of conferences focusing on legal technology.
What is that future? Bill Gallivan told me that a totally virtual show "… is probably not the best model for the ABA going forward since vendor payments will decline but it may be a better way to deliver content and information from ABA subscribers since there are no travel costs and content can be semi-pre-recorded for better delivery."
And Don Swanson, long time participant in legal technology consulting and president of Five Star Legal, noted that he thought smaller groups will be focus of the future for live events, perhaps even put on by law firms or vendors.
Either way, hopefully we will see you next year live and in person at the Hyatt. And of course, the Billy Goat Tavern! Cheezborga, Cheezborga, Cheezborga.
Sours: https://www.digitalwarroom.com/blog/aba-tech-show-2021-first-time-online
829
830
831
832
833