As parents we want to use the best baby care products for our precious little ones.  You may even be in a situation like me where my son has extremely sensitive skin so we've found our options for bath wash, creams and lotions are very limited.
I was recently introduced to Arbonne. A Swiss-based company, Arbonne promotes botanical and herbal organic ingredients as the foundation of it's product line, which focuses on skin care and cosmetics.
For our growing family I like the ABC Arbonne Baby Care line which consists of a Hair & Body Wash, Body Lotion, Herbal Diaper Rash Cream, Body Oil and a SPF 30+ Sunscreen designed for children from birth to age 10.  My favorite part of the collection is that they are chemical free, dye free, all natural and they actually work to clean a messy toddler.
Arbonne is committed to the development of unparalleled products free of harmful ingredients, using a combination of botanical principles and scientific discovery. Their commitment begins with research and testing to ensure that each of their ingredients meets or exceeds industry standards for purity. Plus, Arbonne products are vegan-certified: Their formulas are never tested on animals and do not contain animal-derived ingredients or animal by-products.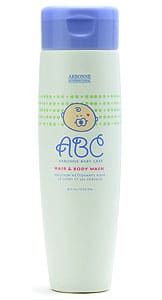 The baby Hair and Body Wash is a gentle, ultra-mild, tear-free cleanser for hair and delicate skin.  It's designed to help replace the skin's natural oils, even as it cleans, moisturizes and conditions.  The body wash was easy to use, and features a convenient cap which allows it to stand and easily that flips open when you're ready to use it.  Simple to use, I found that we got a nice lather and it washed off easily without leaving a film.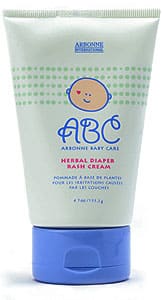 The Herbal Diaper Cream was good… it was creamy enough to apply easily, but thick enough to do the job and protect.  It featured the same easy flip top and the size was perfect for taking on the road.  I've also been advised by one of my friends that she and her husband use the diaper cream for chapped lips and it apparently works great!
The Body Lotion is designed for delicate skin in a way that it soothes, softens and conditions skin, while helping to reduce redness and irritation.  The Body Oil is developed to restore baby's skin with essential moisture from sunflower seed oil, jojoba seed oil and shea butter.  Finally, the Sunscreen SPF 30+ is formulated with antioxidants vitamins A, C and E and gentle botanicals, this sunscreen is PABA-free, pediatrician and dermatologist tested.
The ABC Baby Care line ranges in price from $18.00 – $30.00 and Parents can feel good knowing that they are using products that are:
Botanically based and pH correct
Pediatrician and dermatologist tested
Non-sensitizing, non-irritating
Formulated without nut oils
Tear-free hair and body wash
Not tested on animals
As a bonus for those of us who are "earth friendly", Arbonne is all about being green!  From botanically based ingredients to forward-looking green improvements, being earth friendly has everything to do with who they are and how they choose to grow.  They are taking "pure, safe and beneficial" to the next level through their efforts to match the purity of their ingredients with the earth friendliness of their packaging. So what's good on the inside is also good on the outside!!
If you're interested in purchasing any of these products or want to check out some other great products (including ones for Mom AND Dad) check out their full product line here.  As a bonus if you're an avid shopper consider becoming a preferred client so you get 20% off, get access to special offers and if you spend $180.00 on your first purchase you get a $100.00 free gift!
---
Related Articles:
---
[ad]
Sours: https://www.growingyourbaby.com/introducing-abc-arbonne-baby-care/
Mineral Sunscreen Review: Arbonne Baby Care Sunscreen
Details:
Price: 2019 price estimate: $$$$
EWG rating: 1
SPF: 30
Active ingredient(s): Zinc oxide 14.4%

Other ingredients: water, c12-15 alkyl benzoate, caprylic/capric triglyceride, coco-caprylate, polyglyceryl-2 dipolyhydroxystearate, dicaprylyl carbonate, polyglyceryl-4 isostearate, cetyl dimethicone, glycerin, copernicia cerifera (carnauba) wax, cetyl alcohol, euphorbia cerifera (candelilla) wax, tapioca starch, calendula officinalis flower extract, chamomilla recutita (matricaria) flower extract, aloe barbadensis leaf juice, triethoxycaprylylsilane, tocopheryl acetate, magnesium sulfate, sodium chloride, silica dimethyl silylate, stearic acid, chlorphenesin, phenoxyethanol
Antioxidants added: Calendula extract
Where to purchase: Arbonne
Ease of application: +
Scent: smells lovely!
Water resistant? Rated for 40 minutes
My review: I reviewed Arbonne's sunscreen a few years back, and I was appalled to find that it was made up of mostly chemical ingredients. Fortunately, they have reformulated, so as long as you buy the correct version, you can get one with only zinc oxide. I start out a little skeptical however, because the percentage of zinc is very low (14.4%) and the water resistance is only rated for 40 minutes, which means it will never be one of my best choices for energetic summer children. The tube itself also doesn't list other ingredients, which just frustrates me. Why not?
It rubs in acceptably well, about average for zinc-based sunscreens. Once it is completely rubbed in, it is nicely clear. It smells lovely! We used it side-by-side with Tropical Sands SPF 30 on a very long day in hot sun and water, and no burns evident. That's great news, as I feel confident that it will live up to its spf30 claim.
I am very happy that Arbonne has created a mineral-based sunscreen, so if you are working with a rep or at a party, feel confident in purchasing this product… Just be aware that you may need to reapply more often if your family is swimming or sweating.
Pros
Rubs in well, clear
Smells lovely
Cons
Only water resistant for up to 40 minutes
Low percent of zinc oxide
Tube doesn't show all ingredients
Sours: https://www.kitchenstewardship.com/mineral-sunscreen-review-arbonne-baby-care-sunscreen/
Overview
Abc Arbonne Baby Care Diaper Rash Cream is used for Temporarily protecting and relieving chapped or cracked skin, Eczema, Skin irritation, Hemorrhoids, Minor skin infections, Nappy rash, Sunburn and other conditions. Abc Arbonne Baby Care Diaper Rash Cream may also be used for purposes not listed in this medication guide.
Abc Arbonne Baby Care Diaper Rash Cream contains Dimethicone and Zinc Oxide as active ingredients.
Abc Arbonne Baby Care Diaper Rash Cream works by forming a hydrating barrier on the skin to prevent water loss; forming a barrier on top of the skin that protects the area from moisture and irritants;
Detailed information related to Abc Arbonne Baby Care Diaper Rash Cream's uses, composition, dosage, side effects and reviews is listed below.
Precautions
Before using Abc Arbonne Baby Care Diaper Rash Cream, inform your doctor about your current list of medications, over the counter products (e.g. vitamins, herbal supplements, etc.), allergies, pre-existing diseases, and current health conditions (e.g. pregnancy, upcoming surgery, etc.). Some health conditions may make you more susceptible to the side-effects of the drug. Take as directed by your doctor or follow the direction printed on the product insert. Dosage is based on your condition. Tell your doctor if your condition persists or worsens. Important counseling points are listed below.
Avoid contact with eyes and mouth
Do not take this medication if you are allergic to it
For external use only
Get medical help immediately if swallowed
Pregnant, planning to get pregnant or breastfeeding
Stop use and ask a doctor if condition worsens or symptoms last for more than 7 days
do not take by mouth. Consult with your doctor before using this medicine on open wounds, dry, chapped, irritated, or sun-burned skin.
wash your hands before and after applying Abc Arbonne Baby Care Diaper Rash Cream. Clean and dry the skin area to be treated.
do not wash the treated area after immediately applying Abc Arbonne Baby Care Diaper Rash Cream. Also avoid the use of other products on the treated area unless directed by your doctor.
applying an excessive amount may result in pilling. Use a thinner layer or lesser quantity of medicine to avoid pilling.
avoid getting this medication in your eyes or nose or mouth.
Interactions with Abc Arbonne Baby Care Diaper Rash Cream
If you use other drugs or over the counter products at the same time, the effects of Abc Arbonne Baby Care Diaper Rash Cream may change. This may increase your risk for side-effects or cause your drug not to work properly. Tell your doctor about all the drugs, vitamins, and herbal supplements you are using, so that you doctor can help you prevent or manage drug interactions. Abc Arbonne Baby Care Diaper Rash Cream may interact with the following drugs and products:
Heparin
Herbal topical medicines
Ichthammol
Phenoxymethylpenicillin
Sodium calcium edetate
Composition and Active Ingredients
Abc Arbonne Baby Care Diaper Rash Cream is composed of the following active ingredients (salts)
Please note that this medicine may be available in various strengths for each active ingredient listed above.
Packages and Strengths
Abc Arbonne Baby Care Diaper Rash Cream is available in the following packages and strengths
Abc Arbonne Baby Care Diaper Rash Cream - Packages: 141G
Frequently asked Questions
Is Abc Arbonne Baby Care Diaper Rash Cream safe to use when pregnant?

Dimethicone: Please consult with your doctor for case-specific recommendations.
Zinc Oxide: Please consult with your doctor for case-specific recommendations.

Is Abc Arbonne Baby Care Diaper Rash Cream safe while breastfeeding?

Dimethicone: Please discuss the risks and benefits with your doctor.
Zinc Oxide: Please discuss the risks and benefits with your doctor.

Is it safe to drive or operate heavy machinery when using this product?

If you experience drowsiness, dizziness, hypotension or a headache as side-effects when using Abc Arbonne Baby Care Diaper Rash Cream medicine then it may not be safe to drive a vehicle or operate heavy machinery. One should not drive a vehicle if using the medicine makes you drowsy, dizzy or lowers your blood-pressure extensively. Pharmacists also advise patients not to drink alcohol with medicines as alcohol intensifies drowsiness side-effects. Please check for these effects on your body when using Abc Arbonne Baby Care Diaper Rash Cream. Always consult with your doctor for recommendations specific to your body and health conditions.

Is this medicine or product addictive or habit forming?

Most medicines don't come with a potential for addiction or abuse. Usually, the government's categorizes medicines that can be addictive as controlled substances. Examples include schedule H or X in India and schedule II-V in the US. Please consult the product package to make sure that the medicine does not belong to such special categorizations of medicines. Lastly, do not self-medicate and increase your body's dependence to medicines without the advice of a doctor.

Can i stop using this product immediately or do I have to slowly wean off the use?

Some medicines need to be tapered or cannot be stopped immediately because of rebound effects. Please consult with your doctor for recommendations specific to your body, health and other medications that you may be using.
Other important Information on Abc Arbonne Baby Care Diaper Rash Cream
Missing a dose
In case you miss a dose, use it as soon as you notice. If it is close to the time of your next dose, skip the missed dose and resume your dosing schedule. Do not use extra dose to make up for a missed dose. If you are regularly missing doses, consider setting an alarm or asking a family member to remind you. Please consult your doctor to discuss changes in your dosing schedule or a new schedule to make up for missed doses, if you have missed too many doses recently.
Overdosage of Abc Arbonne Baby Care Diaper Rash Cream
Do not use more than prescribed dose. Taking more medication will not improve your symptoms; rather they may cause poisoning or serious side-effects. If you suspect that you or anyone else who may have overdosed of Abc Arbonne Baby Care Diaper Rash Cream, please go to the emergency department of the closest hospital or nursing home. Bring a medicine box, container, or label with you to help doctors with necessary information.
Do not give your medicines to other people even if you know that they have the same condition or it seems that they may have similar conditions. This may lead to overdosage.
Please consult your physician or pharmacist or product package for more information.
Storage of Abc Arbonne Baby Care Diaper Rash Cream
Store medicines at room temperature, away from heat and direct light. Do not freeze medicines unless required by package insert. Keep medicines away from children and pets.
Do not flush medications down the toilet or pour them into drainage unless instructed to do so. Medication discarded in this manner may contaminate the environment. Please consult your pharmacist or doctor for more details on how to safely discard Abc Arbonne Baby Care Diaper Rash Cream.
Expired Abc Arbonne Baby Care Diaper Rash Cream
Taking a single dose of expired Abc Arbonne Baby Care Diaper Rash Cream is unlikely to produce an adverse event. However, please discuss with your primary health provider or pharmacist for proper advice or if you feel unwell or sick. Expired drug may become ineffective in treating your prescribed conditions. To be on the safe side, it is important not to use expired drugs. If you have a chronic illness that requires taking medicine constantly such as heart condition, seizures, and life-threatening allergies, you are much safer keeping in touch with your primary health care provider so that you can have a fresh supply of unexpired medications.
Dosage Information
Please consult your physician or pharmacist or refer to the product package.
Cite this page
APA Style Citation
Abc Arbonne Baby Care Diaper Rash Cream - Product - tabletwise.net. (n.d.). Retrieved July 30, 2021, from https://www.tabletwise.net/canada/abc-arbonne-baby-care-diaper-rash-cream
MLA Style Citation
"Abc Arbonne Baby Care Diaper Rash Cream - Product - tabletwise.net" Tabletwise.com. N.p., n.d. Web. 30 Jul. 2021.
Chicago Style Citation
"Abc Arbonne Baby Care Diaper Rash Cream - Product - tabletwise.net" Tabletwise. Accessed July 30, 2021. https://www.tabletwise.net/canada/abc-arbonne-baby-care-diaper-rash-cream.
More about Abc Arbonne Baby Care Diaper Rash Cream
Last updated date
This page was last updated on 9/27/2020.
This page provides information for Abc Arbonne Baby Care Diaper Rash Cream Product in English.
Copyright © 2021 TabletTree, Inc.
Trademarks & Trade names used herein are the property of their respective holders.
The content provided on this is for educational purposes only. It is not to be used for medical diagnosis, medical advice or treatment. While every effort is made to maintain correctness of content, no guarantee is made to that effect. Use of this site is subject to Terms of Service and Privacy Policy. See Additional Information here.
The opinions expressed in the surveys shown on the medicine and other such pages of this website are those of the participants and not of TabletWise.com.
Share with friends, get 20% off
Invite your friends to TabletWise learning marketplace. For each purchase they make, you get 20% off (upto $10) on your next purchase.
Sours: https://www.tabletwise.net/canada/abc-arbonne-baby-care-diaper-rash-cream
Arbonne baby care
Abc Arbonne Baby Care Nappy Cream
The first main difference is that while TiO2 gives a nice broad spectrum protection, Zinc Oxide has an even nicer and even broader spectrum protection. It protects against UVB, UVA II, and UVA I almost uniformly, and is considered to be the broadest range sunscreen available today.
It's also highly stable and non-irritating. So much so that Zinc Oxide also counts as a skin protectant and anti-irritant. It's also often used to treat skin irritations such as diaper rash.
As for the disadvantages, Zinc Oxide is also not cosmetically elegant. It leaves a disturbing whitish tint on the skin, although, according to a 2000 research paper by Dr. Pinnell, it's slightly less white than TiO2. Still, it's white and disturbing enough to use Zinc Oxide nanoparticles more and more often.
We wrote more about nanoparticles and the concerns around them here, but the gist is that if nanoparticles were absorbed into the skin that would be a reason for legitimate health concerns. But luckily, so far research shows that sunscreen nanoparticles are not absorbed but remain on the surface of the skin or in the uppermost (dead) layer of the skin. This seems to be true even if the skin is damaged, for example, sunburnt.
All in all, if you've found a Zinc Oxide sunscreen that you are happy to use every single day, that's fantastic and we suggest you stick with it. It's definitely one of the best, or probably even the best option out there for sun protection available worldwide.
Sours: https://incidecoder.com/products/arbonne-abc-arbonne-baby-care-nappy-cream
Baby care arbonne
Product Review: Arbonne Baby Care® Set
My family has recently become more aware of the products going on and in our bodies. So I was excited when I was recently given the chance to try out some new products for kids and babies by Arbonne. I learned more about the line of products Arbonne carries (did you know it reaches far beyond skin care?) and about the safer ingredients in Arbonne's products but more importantly what is NOT in the products. They are FREE of many toxic or harmful ingredients including: artificial colors, flavors or sweeteners, parabens, PABA, gluten, soy or whey, formaldehyde-donating preservatives, chemical dyes or fragrance, fluoride or triclosan!


Arbonne's baby and kids care line - the ABC Arbonne Baby Care Set contains Hair & Body Wash, Body Lotion, Broad Spectrum SPF 30 Sunscreen, and Diaper Rash Cream. These products are available individually as well as in a complete set. As a mom, I was excited to find a purer product for washing and moisturizing my kids, as well as for sun protection. It sometimes feels as if we're on a quest for a safer yet usable sunscreen for kids. I was so excited to try the sunscreen that I opened it and applied soon after receiving it. (It was pouring rain that day so no need for sunscreen but I didn't care!) It felt great on my skin! As with other safer, mineral based sunscreens for kids it is thicker than what we had grown accustomed to using but it rubbed in well and felt great on my skin. I had the same experience when rubbing into my child's skin as well (any challenges there would likely be due to the fact that he is in constant motion!).

We also used the Arbonne Hair & Body Wash and it cleaned well and had a very faint fresh scent to it. Not perfume or fragrance, just fresh! I typically find that if a baby or kid product has a strong smell, I have started to avoid it, even though I used to be such a fragrance junkie. We also used the diaper rash cream as well which seemed to work fine, and again no overwhelming scent and easy to apply.

I think my favorite product of the set, though, was the body lotion. I feel sort of picky about lotions and we've tried our fair share. We've used lotion on our kids a fair amount - part for the moisture and part for the calming sensation of it. I thought the Arbonne Body Lotion was so smooth and light to rub in. My little one's reaction "Ahhhh, Dat feel good!" Can't get much more of a toddler rave review than that!


If you are interested in the
ABC Arbonne Baby Care Set
, or any other Arbonne products, visit Alison's Arbonne website. Alison Warner is a local West Chester area Arbonne consultant. She is a pleasure to talk with and feels so passionately about the Arbonne products available and can help you understand more about the products, ingredients and Arbonne mission. Please give her
site
a visit and feel free to reach out to her to get your hands on these terrific, safer baby and kid products. The set would make a perfect holiday gift for new parents or a great baby shower gift.
Arbonne is a vegan certified company with Swiss heritage that has been around almost 35 years ago. Dedicated to providing "pure, safe & beneficial" products, they offer over 400 health, wellness, beauty & personal care products. Alison will tell you how to shop online at a discount for safer alternatives to products you are already buying somewhere else. And if you're looking for an additional income stream for you family, that's an option by simply sharing this better way to shop with your friends & family.
*I received products for the purpose of this review and all opinions are my own.
Sours: https://westchesterpa.macaronikid.com/articles/5825db24dafd905530a13a6a/product-review%3A-arbonne-baby-care-set
Arbonne ABC Baby Care range
Now I know my ABC's (a review of Arbonne Baby Care)
Our nightly bedtime routine involves quite a few baby care products - hair and body wash in the bathtub, a generous dollop of diaper cream on our baby's bum, and a gentle lotion massage to add some moisture to our Little Beauty's dry skin.
Recently, Rachel told me about Arbonne Baby Care (ABC, for short). If you read Rachel's fitness blog or her healthy lifestyle blog, then you know she is committed to natural living - she exercises, she eats right, and she buys healthful products.
She explained that many other baby care lines (take Johnson & Johnson) are "full of chemicals and preservatives...formaldehyde is one of them." For those of us who need a refresher from high school biology (um...me), formaldehyde is a chemical compound that is often used as a preservative. It's also known to be "toxic, allergenic, and carcinogenic." Scary stuff.
Arbonne, on the other hand, is "botanically based" and is "98% plant." It's also "certified Vegan and free of minerals." When it comes to my baby's skin, I definitely think purer and simpler is better. There are enough chemicals in her world already.
You're probably wondering if this natural stuff really works. I tried the hair and body wash, the herbal diaper rash cream, and the body lotion with my daughter. They all seem to work well (although how do you really gauge that?), but I especially liked the creamy thickness of the diaper rash cream. My daughter has never really suffered from diaper rash, but she does have dry skin and I love the rich texture of the cream. My one "critique" of the system is that the scent is rather, well, unscented. There's something about that J & J smell that I actually really like. That said, I'm definitely willing to sacrifice the smell for the simplicity of the ABC ingredient list.
More importantly, it's always a pleasure to support a mom who is striving to prioritize motherhood (Rachel has two boys...a 4-year-old and an almost-2-year-old) and also bring in an income. Rachel describes her life with the boys in her life as "Crazy, Active, Demanding." But she still manages to blog and share her knowledge with moms in an upbeat and helpful way.
If you want to buy the ABC line, you can get it here. If you have questions, you can send Rachel an e-mail at [email protected] And, you should definitely check out her Fitness for Mommies blog (P.S. Right now, she's hosting a contest where you can win a box of Larabars! But hurry...the contest ends February 9!).
WIN IT! One mama will receive a tube of Arbonne Baby Care Herbal Diaper Rash Cream (valued at $14). To enter, simply leave a comment and your e-mail address on this post prior to Wednesday, Feb. 6, at midnight. The winner will be contacted and announced on Thursday, Feb. 7. * Winner must provide a U.S. mailing address.
* UPDATE * The winner is #8 Meg. Congratulations!
Sours: https://www.metropolitanmama.net/now-i-know-my-abcs-a-review-of-arbonne-baby-care/
You will also be interested:
It wasn't until I started this blog that I came across the brand Arbonne, and since then, I've been lucky to trial a selection of products from the brand, all of which have been nothing short of amazing, and I'd highly recommend – so when I was asked to trial the ABC Arbonne Baby Care Set out for my little boys, I happily accepted. Here are my thoughts;
What They Say:
The Arbonne ABC Baby Care Set contains:
Hair & Body Wash, 236ml
Body Lotion, 236ml
Nappy Cream, 141g
Broad Spectrum Sunscreen SPF30
Hair & Body Wash: Baby will have a ball with this 2-in-1 tear-free wash. Rich in shea butter, chamomile and calendula extracts as well as Vitamin E and sunflower oil, this completely new and improved formula works to calm, moisturise and provide gentle but effective cleansing for face, body and hair. Soft supple baby skin just got easier!
Body Lotion: Formulated for delicate skin, this soothing blend with natural emollients shea butter, aloe, and chamomile gently nourishes baby's dry skin. Safe for sensitive skin, it's designed to deliver gentle moisture so everything else can be smooth as a baby's bottom too.
Nappy Cream: For newborns, toddlers, or children of any age, our diaper rash cream is a rich, water-repelling formula that gently helps treat and prevent diaper rash. Created for baby's delicate skin, this unscented formula protects chafed skin and helps protect from wetness.
Broad Spectrum Sunscreen SPF30: Formulated with antioxidants, vitamins and soothing botanicals, our water-resistant sunscreen protects, nurtures and moisturizes baby's delicate skin. Developed with sensitive skin in mind, this unscented formula easily glides on while providing broad spectrum protection.
RRP: $85 – Available from Arbonne Independent Consultants or from Arbonne Online
What I Say:
Our little boys don't have particularly sensitive skin, but I still love that the Arbonne ABC Baby Care products is vegan-certified and has been formulated with naturally derived plant-based ingredients, to make the products as gentle and mild as possible. I also love the products are allergy-, paediatrician- and dermatologist tested.

The Arbonne ABC Baby Care Hair & Body Wash has been made with among others aloe vera, chamomile, calendula, and is a tear-free formula, so no need to worry that the nightly bath will end up in tears. And I love that it is formulated to be so gentle that it is suitable for delicate baby skin, even those under 6 months of age - yet while still thoroughly cleaning the skin, and providing soothing moisture. This of course also means that it is perfectly suited for adults who may have sensitive skin.

I also love that it is an all-in-one formula designed to cleanse the baby from head to toe, and that it doesn't contain any synthetic colours or fragrances, but that it has been naturally fragranced with essential oils and plant extracts – and as a consequence it has a very beautiful and subtle floral scent.

The Arbonne ABC Baby Care Body Lotion is super moisturising and soothing on the baby or toddler's skin, thanks to containing shea butter, aloe and chamomile, in fact, it promises to continue to provide moisture to the skin for 24hrs! The body lotion is quite light in consistency and absorbs quickly into your little one's skin, without leaving it feel greasy or sticky.
My 2 year old boy really loves having lots of bubbles when he is having a bath, - and we're yet to find bubble bath that is not so drying on the skin, so I always make sure to give him a good massage with the Body Lotion afterwards, which makes sure that his skin is always so soft and smooth. I also love that the body lotion has next to no scent, and what little you can detect before it is absorbed into the skin and the scent fades, is from the chamomile and aloe. My only wish would be for the lotion to come in a pump bottle which would make using it a whole lot easier!

The Arbonne ABC Baby Care Nappy Cream is a thick and rich cream that not only helps treat, but also helps prevent nappy rash. We're lucky that our 2 year old boy has never had a bad nappy rash, but we've also been very careful to change him frequently, and always make sure to apply a barrier cream at every nappy change.
In saying that, in periods of teething, the consequent acidic nappies can make his little bum a little red for a short period, but a generous layer of this Nappy Cream, instantly helps!

The final product in the pack is the Arbonne ABC Baby Care Broad Spectrum Sunscreen SPF30. I did receive this pack of products for trial when it was already autumn and the sun's rays consequently no longer as harsh – but still, if we're out in the sunshine, I always make sure to apply sunscreen to his pale and sensitive skin, as I would hate nothing more than his perfect unblemished skin to get damaged by the sun.
I also find that it is perfect for use to protect his skin against windburn from the chilling winter winds, so far, this light non-greasy, and non-scented sunscreen has lived up to its promise!

So all in all, Arbonne hasn't failed to impress me yet again, - so if you too are looking for gentle and soothing products for your baby then I highly recommend that you check out the Arbonne ABC Baby Care Range, you won't be disappointed!

*Product was kindly provided for consideration, and has reviewed in accordance with my Disclosure Policy.


Twitter | Facebook | Bloglovin | Instagram |
Share:
Sours: https://beautyandlifestylehunter.blogspot.com/2015/06/product-review-arbonne-baby-care-set.html
831
832
833
834
835